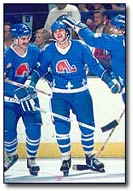 -- 1,000th NHL Point --
(January 7, 2002) -- On October 19, 1989, Peter Stastny became the first European-trained player to record 1,000 points in the NHL. By the time he retired, he had 1,239 to his credit, but to play at such a consistently high level for so long was an amazing accomplishment for someone who knew little firsthand of the North American game when he first arrived in Quebec City in 1980. "The 1,000th point was special, yes. I scored it in Chicago, which is where I also scored my first NHL goal, against Tony Esposito, so it was nice to get the goal there," Stastny says of the milestone.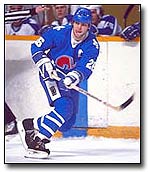 Ironically, for someone who fooled and deked so many goalies, his 1,000th point, a goal, came gift-wrapped. "Paul Gillis gave me the puck and I had an empty net," he says of his last-minute goal that sealed the Nordiques' 5-3 win. "It's certainly better, though, to get a goal for the 1,000th than an assist."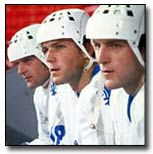 Although he never kept close tabs of his point totals, Stastny notes that in hockey-mad Quebec such attention to detail was hardly necessary. "Playing in Quebec back then, even if you don't know how many points you have, there are so many journalists to remind you. When I had my 400th point, they were talking about it, and I said then, 'wait to see if I get a 1,000. That would be something.'" And he did, and it was. "That's the kind of thing that, yes, makes you reflect on your career and makes you proud."
- Andrew Podnieks is the author of numerous books on hockey including the current The Essential Blue & White Book. He is also a regular contributor to Leafs.com and managing editor of A Day In The Life of the Leafs to be published in the fall of 2002.
Top 5 European-trained All-Time Point Leaders (as of January 1, 2002)
1
Jari Kurri (Finland)
1,398 points
2
Peter Stastny (Slovakia)
1,239 points
3
Jaromir Jagr (Czech Rep.)
1,115 points
4
Mats Sundin (Sweden)
903 points
5
Alexander Mogilny (Russia)
874 points