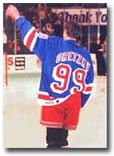 (January 21, 2002) -- As the saying goes, records are made to be broken. Records are numbers, tangible, factual elements in sports that are attained and then eclipsed. Although Wayne Gretzky broke more than fifty NHL records, not one of them is impossible to equal.

When Rocket Richard scored 50 goals in 50 games, everyone said that was it -- no one could score more.
When Phil Esposito scored his 152nd point, everyone said that was beyond duplicating. So, too, can we say that about Gretzky's 50 goals in 39 games or 92-goal season or 215-point season or 2,857 total points. But these are all attainable because they are just numbers. Phenomenal numbers, of course, but numbers all the same.
When Gretzky was awarded the Order of Canada, he received an honour he could not ever have focused on "winning" because it's not a winnable, tangible award.

And so, too, in many ways, Gretzky's greatest achievement in hockey was not a goal or Stanley Cup but rather receiving the honour of having his number retired by the league itself. No one has ever been given such a high honour. No amount of skating in his backyard could have made him dream of such a tremendous compliment. But his contribution to the game, to the league, to his country, made official what everyone knew was never going to happen anyway -- another player coming along and wanting to wear 99. "I received a call from commissioner Bettman shortly before my last game," Gretzky recalls. "He told me that they wanted to retire my number throughout the league. I was so surprised and flattered. It truly is a great honour." The greatest of them all, in fact.
- Andrew Podnieks is the author of numerous books on hockey including the current The Essential Blue & White Book. He is also a regular contributor to Leafs.com and managing editor of A Day In The Life of the Leafs to be published in the fall of 2002.