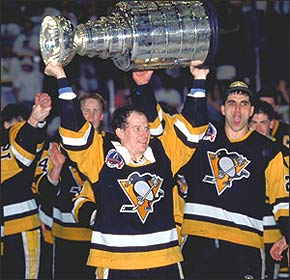 Joe Mullen celebrates winning his second Stanley Cup in his first season with the Pittsburgh Penguins.

From a career that began on rollerskates in the Hell's Kitchen area of New York City, Joey Mullen's prominent ride to the Hockey Hall of Fame had a most inauspicious start. But after 16 NHL seasons, point-a-game production and three Stanley Cup championships, Mullen firmly established the credentials for his induction into the Hockey Hall of Fame in 2000.

Along with being awarded the Lady Byng Trophy twice, being named to the NHL's First All-Star Team, eleven times scoring 20 or more goals in a season (including scoring 40+ goals on seven occasions), Joey also enjoyed the opportunity to play for his country in the Canada Cup tournament three times. But looking back on an outstanding career, Joey Mullen had no difficulty selecting his pinnacles.

"Winning the Stanley Cups are always the biggest highlights of my career," he states quickly. "Just being able to win that trophy and say you're a Stanley Cup champion — that makes a career, for sure. It's just great to get your name on that trophy."

Joey has his name engraved on the trophy three times. In 1989, he was part of the Calgary Flames' triumphant run to glory. Two years later, he won again as part of the Pittsburgh Penguins' coming of age, while a third championship came the very next season (1992) when the Penguins repeated as Stanley Cup victors.

Kevin Shea is the Editor of Publications and On-Line Features at the Hockey Hall of Fame.