The dream of every young boy, and now, many young girls, is to earn the right to hoist the Stanley Cup over your head. It is a rite of passage, an extraordinary opportunity afforded only those who have earned the right to call themselves Stanley Cup champions.

The pinnacle of Clark Gillies' Hall of Fame career arrived when he had reached that goal, so long dreamed of as a boy. "The moment that I think you can never replace was winning that first Stanley Cup," begins the power forward whose best years were spent with the dynastic New York Islanders. "It is six weeks of pure hell. My hat goes off to any team that can go through that and actually win a Stanley Cup because they have done the ultimate task to be victorious. I mean, it is miserable. Every night, you have to be at the top of your game and you go through things that you don't even dream about doing in the regular season. From a physical standpoint, it's grueling — every night, every shift — it's twice the intensity of a regular season shift. And to do what it takes to pull it off, every team deserves all the credit in the world."

Clark Gillies won his first Stanley Cup championship in the spring of 1980. "The real turning point was the Boston Bruins' series," starts Clark. "We beat the L.A. Kings in four games and came back and had to play the Bruins. The first two games were in Boston. I was rooming with Bobby Nystrom at the time. The night before the game, we were in our beds watching the 11 o'clock news. When the sports came on, the news anchor said to the sports guy, 'What do you think about the Bruins' series? They're going up against the Islanders. They're a pretty good hockey team.' The sports guy said, 'Ah, I think the Bruins in five. They'll intimidate the Islanders so bad that the Islanders won't even want to play.' I thought Bobby Nystrom was going to go through the TV. Bobby looked at me and said, 'We're not going to let that happen! This is going to be different! The Bruins are not going to intimidate this team. You and I are not going to let that happen!'"

Expecting a battlefield, the Islanders discovered a very placid game in the series opener. "We went out there and expected the battle of all battles, but we ended up winning 1-0 in overtime. I scored the goal five minutes into overtime. There were only one or two penalties in the game. The whole place was quiet; dead. They couldn't believe what just happened." But the intensity changed in Game Two. "Two nights later, we played them and somewhere in the first period, Terry O'Reilly ran me into the boards and all hell broke loose. He and I had a fight. Nystrom ended up fighting with (John) Wensink. We knew it was going to happen. The papers were all over us the next day. They said the Bruins didn't play a good game and they've got to be more physical. We knew it was going to explode early in the next game, which it did. We had a big brawl at the end of the first period. Guys on both teams got the crap beat out of them. We went on and we won that game. The guys in the locker were so pumped and so intense that I knew there was no way those guys were going to beat us. We had a big strong team and they couldn't intimidate us. We just had to prove it to ourselves."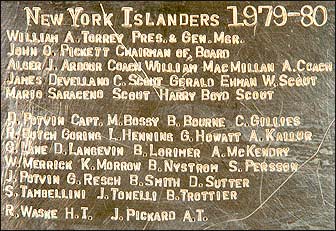 The fights continued in Game Three on Long Island. "O'Reilly and I had two more fights and Nystrom was fighting with somebody and Howatt was fighting with somebody. We beat them," smiles Gillies.

It appeared as though the series was going to end with an Islanders' sweep, "In the fourth game, we had them down 2-1 with about a minute to go," recalls Clark. "Boston pulled their goalie and O'Reilly scored with twenty seconds to go and then he scored again, the bastard! He is such a competitor! His face looked like it had been through a meat grinder but he never stopped. He kept going and going. Now we have to go back to Boston. Why couldn't we have won it four straight?"

Expecting the worst, Gillies and the Islanders discovered the best possible outcome. "It was a relatively quiet game and we beat them 4-1 in Boston. Then we went on and played Buffalo, and with all due respect to the Sabres, it was a pretty calm series and I think we beat them in six games. Then we had to face the Flyers. That was every bit as intimidating as playing the Boston Bruins."

The Flyers, still the Broad Street Bullies to most of the hockey world, were to present a formidable challenge to the Long Island squad. "We beat them in six games, and that was ten days of sleepless nights and a lot of sweat," relates Gillies. "It was pretty serious stuff. We just knew we had what it took and we proved to everybody around that not only can the Islanders play hockey, but they can play tough, too. That was the stepping stone to success for the next four years."

"The things that we went through in that Boston series, and then Philadelphia, were totally exhausting. Guys were beat up but still playing. To see that goal (scored by teammate Bob Nystrom), to hear the fans cheer, my head was basically between my legs catching my breath. When it all happened, I just sat there for a second to take it all in. I do remember that moment so very clearly. To grab the Stanley Cup and raise it over my head was the highlight from a personal and team standpoint. It just doesn't get any better than that!"

Kevin Shea is the Editor of Publications and On-Line Features for the Hockey Hall of Fame.