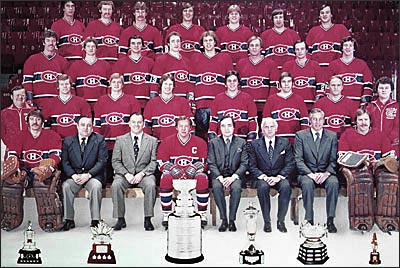 In the 1978-79 season Rod Langway as a member of the Montreal Canadiens captured his one and only Stanley Cup.

The Montreal Canadiens were a phenomenon during the 1970's; a dynasty regarded as one of the finest in the history of the National Hockey League.

During the mid-1970's, the team was stocked with stars. Ken Dryden was dominant in goal. The 'Big Three' anchored the defence — Guy Lapointe, Larry Robinson and Serge Savard — but were ably assisted on the blueline by Rick Chartraw. Up front, firepower came from Guy Lafleur, Yvon Lambert, Jacques Lemaire, Doug Risebrough, Steve Shutt and Mario Tremblay, while defensive forwards Bob Gainey and Doug Jarvis shut down opponents.

Because of the rock-solid foundation, rookies were gingerly inserted into the line-up, watching from the pressbox as often as they actually reached the ice surface.

One of those rookies in 1978-79 was Rod Langway.

After playing just 45 games during the regular season, the young Langway was given spot duty during the early playoff rounds, but played in each of the five contests that comprised the Stanley Cup Final.

In the semi-final, Montreal defeated the Boston Bruins in one of the most infamous games of all time. They tied Don Cherry's Bruins with just over a minute left in the third period after Boston was assessed a too many men on the ice penalty. Then, in overtime, the Canadiens went on to eliminate the Bruins.

The Stanley Cup Final that spring featured Montreal's Canadiens and the New York Rangers. Opening in Montreal, the Rangers shocked the Forum faithful by dumping the Canadiens 4-1. But that was all she wrote for Broadway's best. Montreal took Game Two by a 6-2 romp. Moving to New York, the visiting Habs took Game Three 4-1 and, on an overtime goal by Serge Savard, edged the Rangers 4-3 in Game Four. On May 21, 1979, the Montreal Canadiens won their fourth consecutive Stanley Cup championship, beating the Rangers 4-1 at home in Montreal. Langway made a name for himself through his physical play, shutting down the Rangers' offence and manhandling New York star Phil Esposito.

"The Stanley Cup is the highlight of my career," states Rod emphatically. "The Hall of Fame, the All-Star selections and the Norris Trophies are all great, of course, but the Stanley Cup is it! That's the cream of the crop in my books."

Kevin Shea is the Hockey Hall of Fame's Editor of Publications and Online Features.