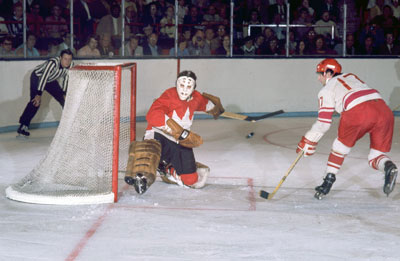 High-flying winger Valeri Kharlamov became well known in Canada after he displayed his dazzling speed and skill in the 1972 Summit Series.
(Graphic Artists/HHOF)

For hockey fans in North America, little was known of players outside the NHL when the Summit Series was conceived. During the Cold War, it was 'us versus them' and 'democracy versus communism.' Although not much was known about most of the individual Soviet players, it was readily acknowledged that the USSR was a hockey power.

Canadians were infuriated that Soviet players were 'shamateurs' - players considered amateur by the International Ice Hockey Federation but who played hockey year round and earned salaries in the process, for many, through military service.

In 1972, hockey executives conceived an eight-game tournament that would allow the best players in Canada, all NHL professionals, to challenge the USSR's best.

Prior to the series, Canadian journalists predicted an eight-game sweep by Canada. But the results were anything but predictable.

Game One took place in Montreal and spectators looked on in slack-jawed amazement as the Soviets dumped Canada 7-3. Valeri Kharlamov, the swift-skating forward, scored twice in the second period. It was quite an introduction to the star Soviet forward.

Ron Ellis, the terrific two-way Team Canada forward, was assigned to shadow the wily Russian. recalled Ellis. "In my NHL career, I had to shadow a number of superstars - Bobby Hull being one of them. I would certainly put Kharlamov on the same level as Hull in terms of talent and ability."

Canada thumped the USSR 4-1 in Game Two, played in Toronto. Kharlamov was kept off the scoresheet, but it took a Herculean effort by netminder Tony Esposito to thwart Valeri on two occasions.

Gamer Three resulted in a 4-4 tie in front of Winnipeg hockey fans. Kharlamov picked up a second period tally for the USSR.

Vancouver hosted Game Four, and the Canadian fans booed their boys off the ice after a 5-3 loss. Valeri Kharlamov picked up an assist in the contest.

The series moved to Moscow for the remaining four games. Kharlamov picked up two assists in the third period of a 5-4 Soviet win in Game Five.

The fiercely contested series continued in Game Six, and Canada had to find a way to stop the skilled Kharlamov. "Kharlamov was killing us," recalled John Ferguson, the assistant coach of Team Canada. "I called (Bobby) Clarke over to the bench, looked over at Kharlamov and said, 'I think he needs a tap on the ankle.' I didn't think twice about it."

Bobby Clarke of Team Canada took his coach's suggestion to heart, chopping Kharlamov's left ankle. "I gave Valeri Kharlamov a tap on his sore ankle with my stick," stated Clarke several years later. "When (journalist) Dick Beddoes asked me about it, calling my shot 'a wicked two-hander,' I simply told him, 'Dick, if I hadn't learned to lay on a two-hander once in a while, I'd never have left Flin Flon!'"

Kharlamov didn't regard the slash as a 'tap on the ankle.' "I'm convinced that Bobby Clarke was given the job of taking me out of the game," he stated. "I looked into his angry eyes, saw his stick, which he wielded like a sword. It had nothing to do with hockey."

Valeri Kharlamov continued to play Game Six, a 3-2 Canadian win, but was unable to compete in Game Seven, a 4-3 win for Canada. In Game Eight, Kharlamov returned but was a shadow of his former self and was largely ineffective in the 6-5 win for Canada in Game Eight on September 28, 1982.

Many observers claim Kharlamov's injury changed the momentum of the series, neutralizing the potent Soviet forward. "What hurt the Russians badly was losing their best player, Kharlamov," commented longtime player and analyst Howie Meeker. "Kharlamov was their best goal scorer; their best player to go wide around a not-too-mobile Canadian defence, and that was a big blow tpo the Russians."

Although Valeri Kharlamov was injured and his Soviets lost the 1972 Summit Series, his star skyrocketed and he was subsequently regarded as one of the game's most talented players. Although he never played in the National Hockey League (the Iron Curtain precluded Soviets from leaving the country to play hockey in North America), Valeri Kharlamov continued to star in and for his country until his tragic death in a traffic accident in 1981.

While he was highly decorated in Russia during his illustrious career, the Summit Series introduced Valeri Kharlamov to a world audience, and most would regard this tournament as the pinnacle of his extraordinary career.

Kevin Shea is the Editor of Publications and On-Line Features at the Hockey Hall of Fame.