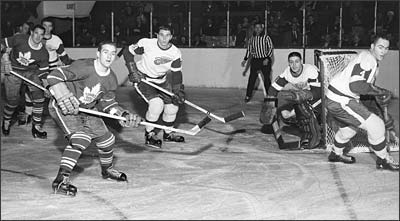 Dick Duff of the Maple Leafs during game action against Terry Sawchuk (#1), Gord Strate (#18) and Red Kelly (#4) of the Detroit Red Wings.
(Imperial Oil-Turofsky/HHOF)

So great was the impact of Foster Hewitt's 'Hockey Night in Canada' radio broadcasts that for any boy growing up in Canada during the 1940s, there was but one goal — to play for the Toronto Maple Leafs.

Dick Duff was no different. A tireless work and fierce competitor, the feisty Duff set his aim on that very feat. He was scouted by the Toronto Maple Leafs and brought to St. Michael's College School in Toronto, where he could secure a Roman Catholic education from the Basilian Fathers but also develop under the watchful eye of Maple Leafs' management, having already been secured with the 'C' Form contract that committed him to the Leafs.

After starring for two seasons with the St. Michael's Majors, the Junior 'A' squad, Duff was hoping to get a shot with the parent NHL team. "I talked to Father Bauer (manager of the Majors and an educator at St. Mike's) one day when I was getting off the subway. The Leafs had talked to him and told him that they wanted me to go practise with them. I said, 'No kidding!' Father Bauer said, 'I think they're looking at signing you.'"

With St. Mike's having just lost the junior playoffs in the spring of 1955, Duff was summoned to join the Maple Leafs. "I was practising with the Leafs and they said, 'Dick, we're going to take you to Montreal.' I was still a junior. In those days, you could play three games as an amateur before they had to sign you to a pro card. So I went to the Montreal Forum and Ralphie Backstrom gave me the wave. (Backstrom was a friend from Kirkland Lake)."

The game ended in a 0-0 deadlock. "Teeder Kennedy was my centreman, and after that game, the Leafs figured, 'I think this guy is going to be able to play here!' They said, 'Dick, we're now going to play in New York.' After that, we went into Detroit for the last game of the season." With the season concluded, the playoff match-up saw Toronto playing the Red Wings in the semi-final, with the series starting at Detroit's Olympia. "(General manager) Hap Day said, 'Dick, we want you to stay with the team. You're not going to be signed but we want you to take everything in.'"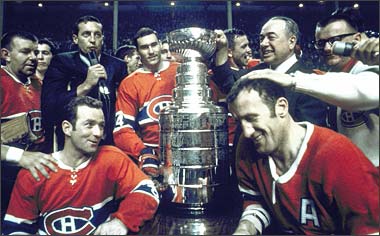 Dick Duff (Front Left) celebrates with his Montreal Canadiens teammates a Stanley Cup championship. (Frank Prazak/HHOF)

The Leafs were intense as they prepared for Game One. "I knew this wasn't going to be any baby game," laughs Dick. "They were talking about Horatio Alger." (The nineteenth century author wrote immensely popular 'rags to riches' stories). "They were getting ready!"

The Leafs were eliminated in four consecutive games by the Red Wings, but the experience fuelled Duff's desire to wear the blue and white of the Maple Leafs. "I saw it all and I was part of it. They were getting me ready to be signed. I still had a year of junior left. But they found out that I could play and that I wanted to play."

And play, he did. Through his Hall of Fame career, Dick Duff was part of six Stanley Cup championships, but getting the chance to play in the National Hockey League is the pinnacle of his remarkable career. "To have made it to the NHL, which was my dream since I was a kid, to go to St. Mike's and to have that experience, and to play for the Toronto Maple Leafs and the Montreal Canadiens — I'm the luckiest guy alive!"

Kevin Shea is the Editor of Publications and On-Line Features at the Hockey Hall of Fame.