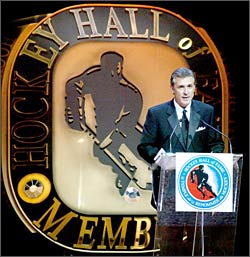 Ron Francis was inducted into the Hockey Hall of Fame in 2007. (Dave Sandford/HHOF)

If it's possible to achieve hockey immortality by virtually flying under the radar, then Ron Francis did just that. A constant and consistent threat on the ice and a key contributor to championships, Francis's humility and good deeds off the ice almost shadowed his extraordinary hockey career.

In 2007, Ron was inducted into the Hockey Hall of Fame with Players Al MacInnis, Mark Messier and Scott Stevens as well as Builder Jim Gregory, arguably the strongest line-up of inductees in the Hall's glorious history. And no one would ever argue the deservedness of Ron Francis.

"The direct route from Reid Street in Sault Ste. Marie to the corner of Front and Yonge streets covers just under 700 kilometres, and I could probably drive it alone in under 9 hours," began Francis in his Hockey Hall of Fame induction speech. "However, the wonderful journey that I took getting to tonight's honour took me throughout much of North America, and involved the efforts of countless individuals. It has been filled with an unforgettable group of characters, and men and women of great character; people who shared of themselves unselfishly, who taught me by word and action what it takes to succeed in hockey and life, and who made it clear what really matters in both. The person you see tonight has been shaped by the hands of those people. In honouring me, you honour each of them for their contributions to my success."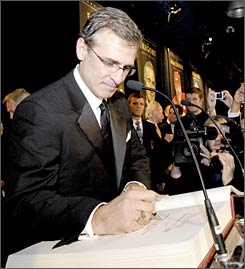 Ron Francis signs the Honoured Member book after being inducted into the Hockey Hall of Fame in 2007. (Matthew Manor/HHOF)

Ron also expressed his lifelong appreciation to his parents. "This eventful trip in my hockey career began at the ripe old age of three, with much of the time spent in the family car, driving to the rink for practices, games and tournaments. Beyond the chauffeur service, I saw in my parents their absolute commitment to the family, as they helped my brother and me develop our talents to the fullest. They gave us the most precious commodity — their time and attention — which is better than the best equipment in the world at helping a child grow."

Deflecting his own considerable skills and perseverance, Francis readily included 23 years of NHL teammates in his thanks for their contributions to his success. "From my first day in the NHL to my final game, I had the privilege to be on the ice with some of the greatest players and human beings you could find, not that they were all ready for sainthood, but almost to a man, they understood the beauty and integrity of the game and how lucky we were to be paid to play something we would otherwise have done for free or would have been buying ice to do."

Ron Francis - class and classic. And an Honoured Member in the Hockey Hall of Fame.

Kevin Shea is the Editor of Publications and Online Features for the Hockey Hall of Fame.