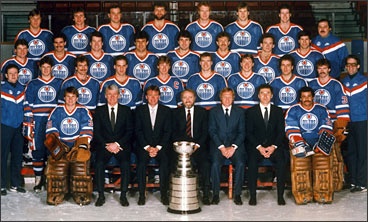 Click to expand. The Edmonton Oilers won their first of five
Stanley Cups in 1984 after they dethroned the New York
Islanders as champions.

"It's hard to select one thing from over twenty-six years of professional hockey, but you play hockey to win, and that's what everybody's goal is in September — to win the Stanley Cup."

Mark Messier not only won the Stanley Cup once; he was part of six championships. And he is the only player in NHL history to have captained two franchises to Stanley Cup glory, which he did with the Edmonton Oilers in 1999 and with the New York Rangers in 1994. "I was fortunate to be on teams that were able to do that six times," smiled Messier. "In the end, what you realize throughout your career is that that is the goal. Not everybody can win, but when you do win, it shapes your life in a way you'd never, ever dreamed of. I'm most thankful that I had the opportunity to play with those groups of players that gave of themselves personally to benefit the team."

To select one pinnacle was challenging, but Mark selected the first Stanley Cup won by the Edmonton Oilers. That championship, coming in 1984, was hard-earned. In 1982-83, Edmonton had climbed to the Stanley Cup final, only to be swatted away in four straight games by the New York Islanders. But it took losing in order for the Oilers to realize what it took to win. In 1983-84, the Oilers and Islanders again emerged as challengers for the Stanley Cup. The Long Island squad was hunting for a fifth consecutive Stanley Cup championship, but the Oilers proved spoilers.

Grant Fuhr earned a shutout in Game One of the 1984 Stanley Cup final as the Oilers edged the Islanders 1-0. New York bounced back with a 6-1 spanking in Game Two, but that was all she wrote for Bossy, Trottier and the Long Island brigade. Game Three was a vengeful smackdown, with Edmonton triumphing 7-2. They enjoyed that win so much they returned with a second straight 7-2 mauling in Game Four. Game Five, played May 19, 1984 in the Alberta capital saw the Edmonton Oilers earn their first franchise Stanley Cup victory. A 5-2 win, with Kenny Linseman earning the Cup-winning marker, did the trick, and the young Oilers celebrated like few teams before.

"For myself, being from Edmonton, it was a special moment," beamed Messier. "But for all of us, not just players and those involved with the team, but everybody who was a hockey fan and watched Toronto and Montreal all those years on TV, it was a dream come true to see the Stanley Cup being given to us in Edmonton, Alberta, an expansion team five years after we joined the NHL."

Kevin Shea is the Editor of Publications and Online Features for the Hockey Hall of Fame.