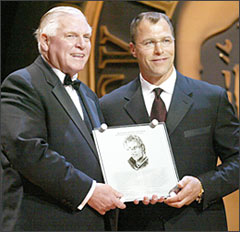 Scott Stevens accepts his Honoured Members plaque from Hockey Hall of Fame Chairman and CEO, Bill Hay in 2007. (Dave Sandford/HHOF)

It is beyond the comprehension of nearly all hockey players that one day, they might he rewarded for a career of excellence by being inducted into the Hockey Hall of Fame, but such was the honour bestowed upon Scott Stevens in 2007. "I don't think players really think about the Hall of Fame when they first get into the league, but as you get closer to the end of your career, you think about it," he admitted.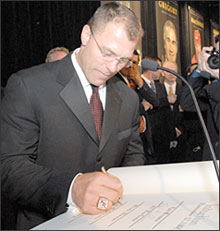 Scott Stevens signs the Honoured Member book after being inducted into the Hockey Hall of Fame in 2007.
(Matthew Manor/HHOF)

The path to a Hall of Fame career began early for Stevens. "Growing up, I was lucky enough to be sandwiched between two very athletic brothers. There was always competition in our house, whether it was pingpong, football or hockey, often in my Mom's living room. We loved to skate on the rink in our backyard and play road hockey whenever we could. Every day with my brothers was preparation for playing in the National Hockey League!"

After a 22-season NHL career, complete with three Stanley Cup championships, Scott Stevens concluded his career with the final game of the 2003-04 season. In his first year of eligibility, he became an Honoured Member of the Hockey Hall of Fame. "To be inducted is awesome," he said. "In my case, championships were a consideration. But I also think my work ethic and passion for the game and the desire for my team to win all played a role, too."

Kevin Shea is the Editor of Publications and Online Features for the Hockey Hall of Fame.