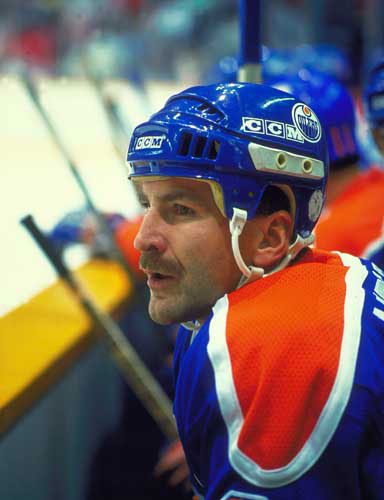 Anderson was part of five Stanley Cup championship teams in Edmonton. (Paul Bereswill/HHOF)

A determined young Oilers' squad hit the ground running in 1982-83. They finished first in the Smythe Division with 106 points (28 more than second place Calgary), and scored an almost unbelievable 424 goals. Wayne Gretzky, Mark Messier, Glenn Anderson and Jari Kurri all finished among the NHL's leading scorers during the regular season.

"We set our goal as a team to win it (the Stanley Cup) in five years," Glenn Anderson recalls. "So when we got to the final, we were pretty much satisfied of getting there." But facing the New York Islanders, riding a three-year dynasty that they were hell-bent on extending, the Oilers were taken to school. "We got destroyed by a team that played a phenomenal system that absolutely broke us down as individuals and really took it to us. That was the Islanders in '83, and they won in four straight."

The powerful Oilers were emasculated, scoring just 6 goals in the four games of the final. Terrific goaltending from Billy Smith and impenetrable checking by the Oilers minimized the Edmonton offence.

"We had a bitter pill in our mouth and I think the majority of us hated to lose so much that we didn't want to have that same pain in our stomach, in our gut, in our heart and in our head," winces Anderson.

Facing the Islanders in the Stanley Cup final again in the spring of 1984, the Oilers were determined to topple New York's dynasty. "We played really, really well," continues Glenn. "Grant Fuhr stood on his head." Fuhr earned a 1-0 shutout in Game One. But the Islanders weren't ready to surrender. They beat Edmonton 6-1 in Game Two.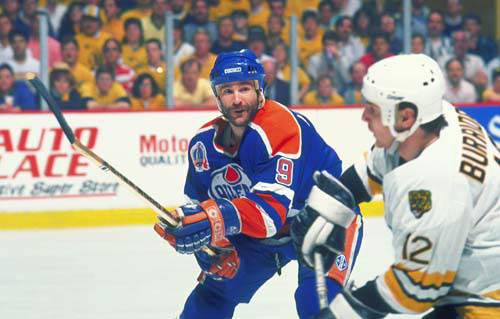 Edmonton's Glenn Anderson battles with Boston's Randy Burridge during the Stanley Cup Final. (Paul Bereswill/HHOF)

The first two games were played on Long Island in a format that at the time saw the next three games played in Edmonton and, should they be needed, the final two again, at Nassau Coliseum. Edmonton roared back with a 7-2 shellacking of the Islanders in Game Three, a 7-2 win in Game Four and a 5-2 victory in Game Five.

"We ended up winning our first Stanley Cup in 1984 against the Islanders."

That victory, on May 19, 1984, was the first of five Stanley Cup championships Anderson would win with the Oilers, and he added a sixth and final Cup victory as a member of the New York Rangers, but that first celebration was one that Glenn would isolate as the pinnacle of his career. "It was a very spectacular moment in time," he beams.

Kevin Shea is the Editor of Publications and Online Features for the Hockey Hall of Fame.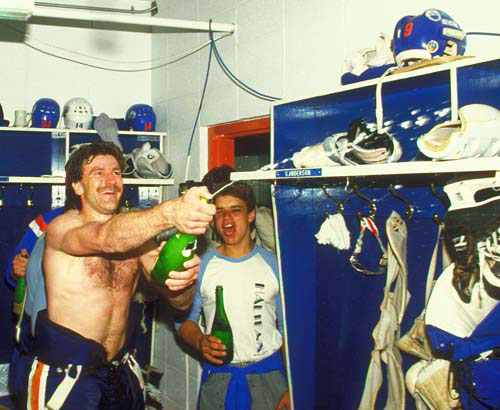 Edmonton's Glenn Anderson sprays champagne in the team's dressing room following a Stanley Cup win. (Paul Bereswill/HHOF)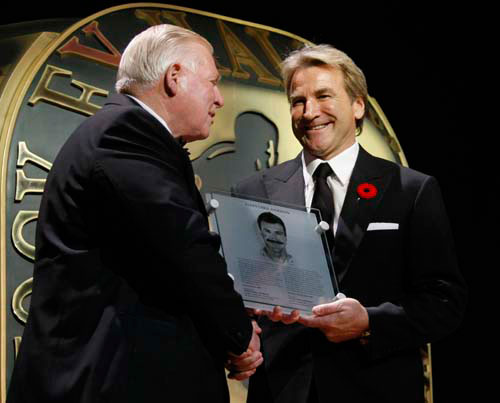 Glenn Anderson accepts honoured members plaque from Hockey Hall of Fame Chairman and CEO, Bill Hay. (Dave Sandford/HHOF)