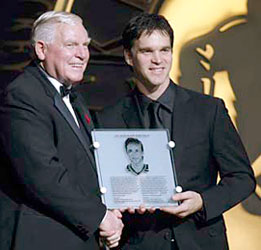 Hockey Hall of Fame Chairman and CEO, Bill Hay presents Luc Robitaille with his Honoured Members plaque after being inducted into the Hockey Hall of Fame in 2009.

While Luc Robitaille enjoyed three separate stints with the Los Angeles Kings, the team with which he has the strongest relationship having started and ended his career there, establishing franchise records along the way, there is no greater achievement for a player than to be selected to the Hockey Hall of Fame.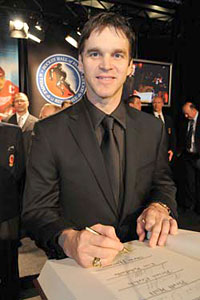 Luc Robitaille is all smiles after signing the Honoured Members book following his induction into the Hockey Hall of Fame in 2009. (Matthew Manor/Hockey Hall of Fame)

On November 9, 2009, Luc Robitaille was inducted into the Hockey Hall of Fame along with New Jersey Devils' general manager Lou Lamoriello, former Detroit Red Wing teammates Brett Hull and Steve Yzerman and former New York Ranger teammate Brian Leetch.

"I never set out to accomplish anything like this," Luc admitted. "When I was a kid, I dreamed of playing in the National Hockey League, and to now be alongside greats like Rocket Richard, Guy Lafleur and Wayne Gretzky is not only indescribable, it is beyond anything I ever dreamed of." He added, "I just wanted to play in the NHL, and to have this happen, it's something truly amazing. It's hard for me to describe."

At the Induction Ceremony, after thanking various family members, mentors and former teammates, Robitaille humbly read a passage with a poignant message that alluded to the number of people who told him he didn't have the ability to play in the National Hockey League. "Hope is the light that shines on the 9th round draft picks of the world, who are too slow, who can't skate, don't have a chance of making it and compels them to make it." He then punctuated the verse, saying, "Even though this was written about me, this applies to all the kids around the world. Be a light; follow your dreams. Anything is possible!"

Kevin Shea is the Editor of Publications and Online Features for the Hockey Hall of Fame.