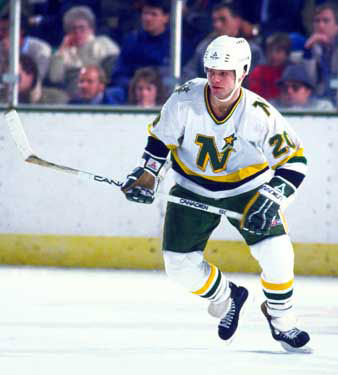 Dino Ciccarelli scored 30+ goals in seven of his nine seasons with the Minnesota North Stars.
(Paul Bereswill/Hockey Hall of Fame)

At 5'10" and 185, it was size that almost denied Dino Ciccarelli of an NHL career. While looked at as small, Dino played big, giving no quarter and backing down from no one. While his NHL production was prodigious, so were his penalty minutes. In 1,232 regular season NHL games, he collected 1,200 points ... and 1,425 minutes in penalties.

But it wasn't just his size that almost derailed his Hall of Fame career. "When I was 17, I broke my femur. Don Brankley was a trainer for the London Knights for 38 years, and without his support, I really don't think I would have made it. The leg took two years to heal and after a year coming back, it still didn't feel strong enough, but Branks said, 'You're not going to let a broken leg get in the way of fulfilling your dream, are you.'"

Not selected by any team through two National Hockey League Entry Drafts, teams shied away from Ciccarelli, although Scotty Bowman of the Buffalo Sabres and Lou Nanne of the Minnesota North Stars both talked to the youngster about signing as a free agent. Nanne won the services of Ciccarelli. "He said, 'You could score goals prior to breaking your leg and if we get the leg in shape, you'll score goals again.'" Dino did.

Splitting the season between the Oklahoma City Stars of the Central Hockey League and the NHL's Minnesota North Stars, Dino scored 50 goals (32 in 48 games with Oklahoma and 18 in 32 games with the North Stars), and then tore up the playoffs, setting an NHL record for goals and points by a rookie in the post-season as he helped Minnesota's drive to the final with 14 goals and 7 assists in 19 playoff games.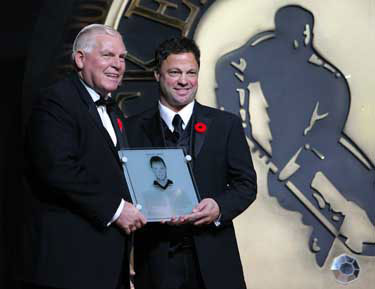 Hockey Hall of Fame Chairman and CEO Bill Hay presents 2010 Inductee Dino Ciccarelli with his Honoured Members plaque.
(Dave Sandford/Hockey Hall of Fame)

While the Stanley Cup eluded him, goal-scoring did not, and the kid who was deemed 'too small' and 'too fragile' for NHL battles went on to score 608 regular season goals, more than any other undrafted NHL player. At the time of his retirement in 1999, Ciccarelli was 17th all-time in NHL regular season goals scored.

For Dino Ciccarelli, the pinnacle of a fine National Hockey League career was, in fact, playing his first National Hockey League game, pulling on the green and gold sweater of the Minnesota North Stars during the 1980-81 season, the first step towards a Hockey Hall of Fame career.

Kevin Shea is the Editor of Publications and Online Features for the Hockey Hall of Fame.