| | |
| --- | --- |
| "The Foster Hewitt Hockey Game" - an early table hockey game from the 1940/50s endorsed by Foster Hewitt. Produced by Reliable Plastics Co. Limited. | A CBC (Canadian Broadcasting Corporation) microphone used by Foster Hewitt and presented to Imperial Oil Limited to mark their 25 years of association (1936-37 - 1960-61) with the national broadcasting of "Hockey Night in Canada". |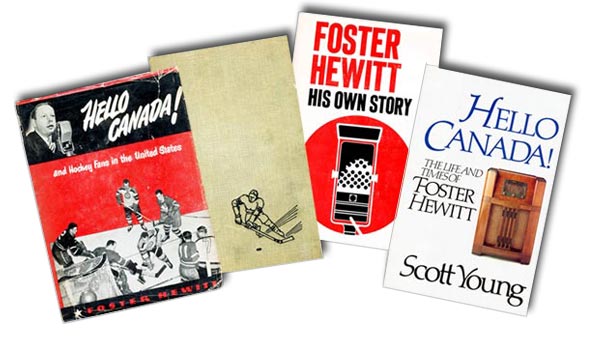 Four books chronicling the brilliant career of Foster Hewitt. From left to right: "Hello Canada! and Hockey Fans in the United States", Foster Hewitt, 1950, Thomas Allen Ltd.; "Down The Ice, Hockey Contacts and Reflections", Foster Hewitt, 1934, S.J. Reginald Saunders; "Foster Hewitt, His Own Story", Foster Hewitt, 1967, The Ryerson Press; and "Hello Canada! The Life and Times of Foster Hewitt", Scott Young, 1985, Seal Books.
| | |
| --- | --- |
| A promotional booklet that accompanied the television production titled, "Lives: Foster Hewitt / A perspective of the man and his times", by the Global Television Network, in association with Goodis, Goldberg and Soren in 1979. | The "Foster Hewitt Memorial Award". This award is presented annually in recognition of members of the radio and television industry who have made outstanding contribution to their profession and the game during their career in hockey broadcasting. |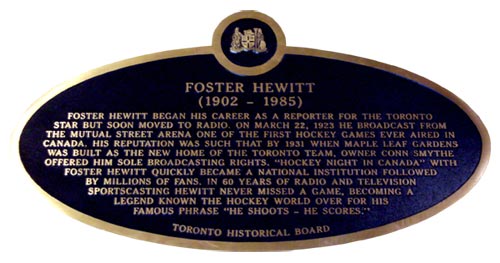 A City of Toronto Historical Plaque commemorating the life
and contribution of Foster Hewitt.