Two Hockey Hall of Fame postcards of
Inductee Georges Vezina.




Last pair of skates worn by Vezina while appearing in his 325th consecutive and final game with Montreal on November 28, 1925 versus the Pittsburgh Pirates. He played only 20 minutes of the game and did not allow a goal. Forced to retire due to turberculosis, Vezina would pass away four months later.
| | | |
| --- | --- | --- |
| In order to compile a 'Who's Who' section in the National Hockey League's Guide and Record Book, players were asked to provide information on various topics, including their minor hockey career, accomplishments in other sports, ancestry, military service, and off-season employment. Here is one for Georges Vezina filled in by Jim Hendy. | Vezina Memorial Trophy plaque in rememberance of two hockey greats Georges Vezina and Dr. Gustave Gauthier of Chicoutimi, Quebec, Canada. | Georges Vezina hockey card from his days as a member of the Montreal Canadiens. |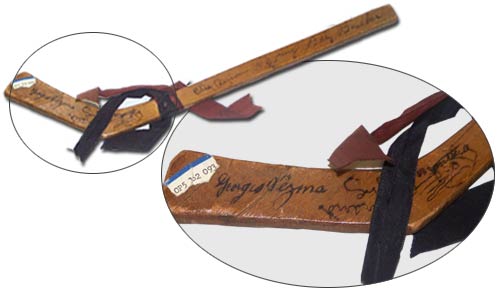 Souvenir mini-stick signed by members of the Stanley Cup Champion Montreal Canadiens including Georges Vezina, following the club's clinching 4-2 win over Ottawa on 11/03/1924.

Last stick used by Vezina on November 28, 1925 versus the Pittsburgh Pirates. Vezina was forced to retire midway through the game due to a high fever, which was the onset of a more serious illness that took his life on March 26, 1926.