Stick used by Durnan circa early 1940s as a member of the Kirkland Lake Blue Devils (NOHA) and Montreal Royals (QSHL).
| | |
| --- | --- |
| In order to compile a 'Who's Who' section in the National Hockey League's Guide and Record Book, players were asked to provide information on various topics, including their minor hockey career, accomplishments in other sports, ancestry, military service, and off-season employment. Here is one for William Ronald Durnan filled in by Jim Hendy. | Bill Durnan caricature celebrating his exploits as a goaltender throughout his playing career. |
| | |
| --- | --- |
| Arm padding worn by Durnan throughout part of his seven year career in the NHL with the Montreal Canadiens. Durnan would help Montreal capture Stanley Cups in 1944 and again in 1946. | Belly Pad worn by Durnan during one of his seven seasons with the Montreal Canadiens in the 1940s. He would win the Vezina trophy in six of his seven seasons. |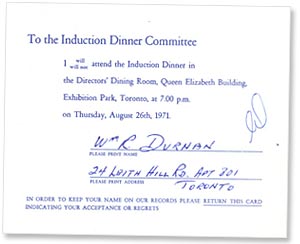 Durnan's confirmation to the Hockey Hall of Fame's Induction Dinner Committee that he would be attending the ceremonies on Thursday, August 26, 1971 at the Queen Elizabeth Building in Toronto.