Invitation to Toe Blake and Al Arbour Appreciation Night held on
Thursday, July 21, 1983 at the President Motor Hotel.
| | |
| --- | --- |
| Blake graces the cover of this October 1955 edition and this May 1956 edition of Blueline magazine. | A 1963-64 Parkhurst hockey card of Toe Blake. |
| | |
| --- | --- |
| On Saturday, August 7, 1948 a press release from the Buffalo Hockey Club was sent out announcing that Toe Blake signed a contract to coach the Buffalo Bisons of the American Hockey League for the 1948-49 campaign. | In order to compile a 'Who's Who' section in the National Hockey League's Guide and Record Book, players were asked to provide information on various topics, including their minor hockey career, accomplishments in other sports, ancestry, military service, and off-season employment. Here is one for Hector "Toe" Blake filled in by Jim Hendy. |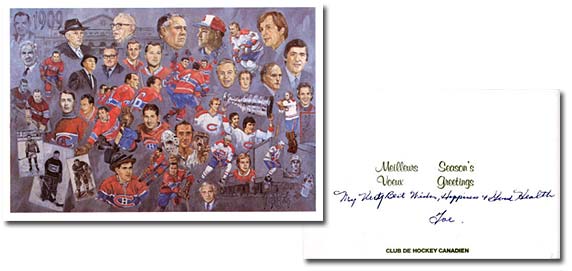 Christmas card sent by Toe Blake to the Hockey Hall of Fame.
| | |
| --- | --- |
| Blake's confirmation to the Hockey Hall of Fame's Induction Dinner Committee that he would be attending the ceremonies on Thursday, August 26, 1971 at the Queen Elizabeth Building in Toronto. | Letter sent out on June 17, 1966 to Hector Blake from R.W. Hewitson, Secretary, Hockey Hall of Fame informing him that he had been named an Honoured Member of the Hockey Hall of Fame under the "Player Category". |
| | |
| --- | --- |
| Stick used by Blake to score his 200th NHL goal on February 17, 1946. | Letter of nomination to the Hockey Hall of Fame submitted by Milt Dunnell recommending that Hector "Toe" Blake be considered for Induction to the Hockey Hall of Fame. |