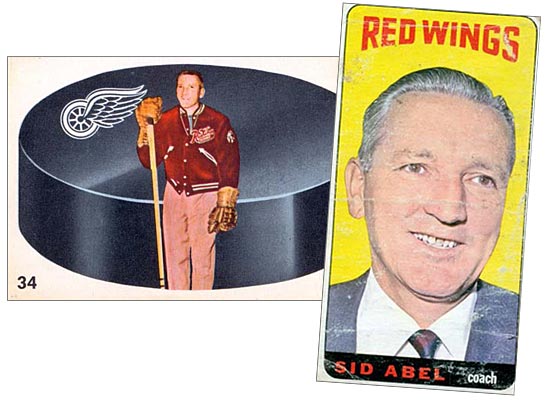 Two of Sid Abel's hockey cards: (from left to right) a 1962-63 Parkhurst (Coach) and 1964-65 Parkhurst (Coach).'

1983 Hockey Hall of Fame hockey card
of Sid Abel.

Detroit head coach Sid Abel graces the cover on
this 1959-60 issue of Red Wing Hockey Magazine.
| | |
| --- | --- |
| In order to compile a 'Who's Who' section in the National Hockey League's Guide and Record Book, players were asked to provide information on various topics, including their minor hockey career, accomplishments in other sports, ancestry, military service, and off-season employment. Here is one for Sid Abel filled in by Jim Hendy. | On June 16th, 1969 this congratulatory letter was sent from Lefty Reid, Director & Curator of the Hockey Hall of Fame on behalf of the Selection Committee and the Governing Committees to Sidney Abel upon his election to the Hockey Hall of Fame. |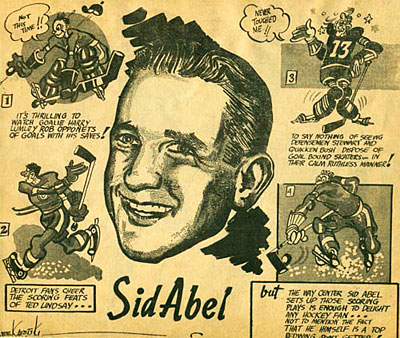 This caricature of Sid Abel appeared in the Hockey News on March 2, 1949.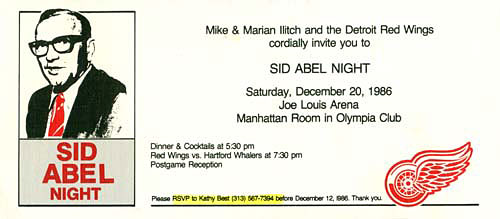 An invitation from the Detroit Red Wings to attend Sid Abel Night in the Manhattan Room
in the Olympia Club at the Joe Louis Arena on Saturday, December 20, 1986.