Jersey worn by Armstrong during the final season of Original Six hockey in 1966-67. Armstrong would lead the NHL's oldest lineup ever (average age 31 years) to the Stanley Cup following a game six win over the
Montreal Canadiens.




Congratulatory letter (June 20th, 1975) from Lefty Reid, Director & Curator of the Hockey Hall of Fame on behalf of the Selection Committee and the Governing Committees to George Armstrong upon his
election to the Hockey Hall of Fame.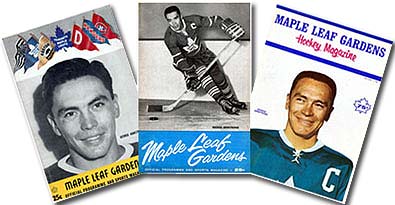 George Armstrong would often grace the cover of the program
"Maple Leaf Gardens" while a member of the Toronto Maple Leafs.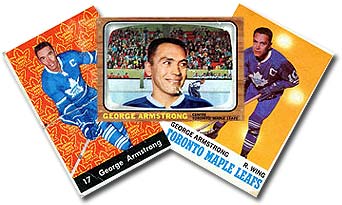 Three of Armstrong's hockey cards: (from left to right) a 1961-62
Parkhurst card, a 1966-67 Topps card, and a 1970-71 Topps card.

Stick used by Armstrong to score his 200th career NHL goal. Armstrong would finish
four goals shy of the 300-goal mark by the end of his career.