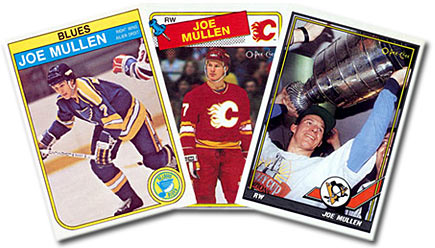 Three of Mullen's hockey cards: (from left to right) his 1982-83 O-Pee-Chee rookie card; a 1988-89 O-Pee-Chee card; and a 1991-92 O-Pee-Chee card.
| | |
| --- | --- |
| Joe Mullen came out of retirement and wore this jersey during the 1999 World Championship. Mullen helped the Team USA re-qualify for "Pool A." | (Left) Molson Cup winner Joe Mullen graces the cover of the Calgary Flames 1987 Stanley Cup Playoffs program. (Right)Calgary Flames 1987-88 media guide featuring Mullen on the cover. The previous season Mullen captured the Molson Cup and was also named the winner of the Lady Byng trophy. |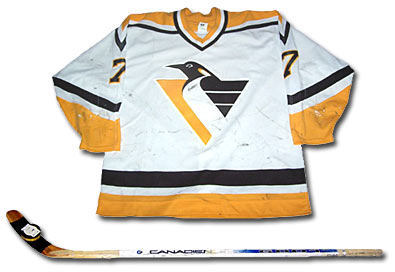 Stick used and jersey worn by Joe Mullen when he became the first U.S.-born
player to record 1,000 NHL career points. Mullen accomplished the feat as a Pittsburgh
Penguin on February 7, 1995 in a game against the Florida Panthers.