Final road jersey worn by Neely during the 1995-96 NHL season. In his final season he recorded 46 points in 49 games.




Gloves worn by Boston Bruins forward Cam Neely while representing the Eastern Conference at the 1995 NHL All-Star
Game in Boston.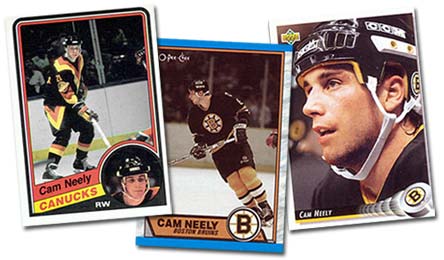 Three of Neely's hockey cards: (from left to right) a 1984-85 O-Pee-Chee rookie card,
a 1989-90 O-Pee-Chee card and a 1992-93 Upper Deck card.
| | | |
| --- | --- | --- |
| On May 3, 1991, Boston forward Cam Neely used this puck to score his 47th career NHL playoff goal against Tom Barrasso of the Pittsburgh Penguins. The goal set a new team record bettering Phil Esposito's total of 46. | Helmet worn by Neely throughout the majority of his ten seasons in Boston. Seven times he would lead the team in goal scoring, including three 50+ goal seasons. | Hockey for Everybody, Cam Neely's Guide to the Red-Hot Game On Ice, by Cam Neely with Brian Tracy, Foreword by Bobby Orr. Chandler House Press 1998. |

Stick used by Neely during his final season in the NHL in 1995-96.