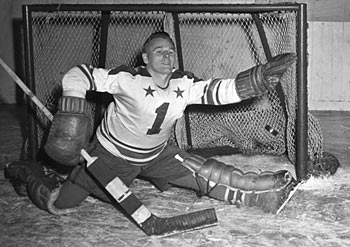 In August 1958 the Toronto Maple Leafs hired
George "Punch" Imlach to replace Howie Meeker.
(Photo by Imperial Oil-Turofsky/Hockey Hall of Fame)

After a dismal decade that followed an earlier dynasty, the Toronto Maple Leafs realized that the strategies they had in place simply weren't working. The goaltending position needed upgrading, and that was addressed through the intra-league drafting of Johnny Bower from the Cleveland Barons of the American Hockey League in June 1958. And a veteran leader was needed; someone who knew how to win. Toronto plucked Bert Olmstead from the Montreal Canadiens in the draft that same year, securing a hard-nosed winger who had been part of the Canadiens' dynasty of the latter-1950s. But the real turning point for the Maple Leafs was hiring a relatively unknown executive by the name of 'Punch' Imlach.

Imlach, who most recently had been coach and general manager of the Springfield Indians of the American Hockey League and had guided the team to that league's championship final, was hired by Toronto in August 1958 to replace Howie Meeker. But there were some tough negotiations. "You have no general manager," he said at that time. "I want that job, or at least the opportunity of getting it." Team owner Stafford Smythe refused, offering the position of assistant general manager, although with the promise that Imlach could prove himself and earn the GM's position. It didn't take long. He was given the title on November 21, 1958.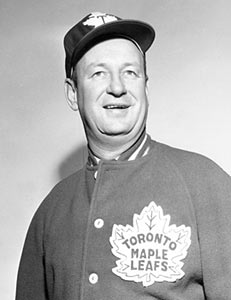 The Toronto Maple Leafs acquired Johnny Bower from the Cleveland Barons of the American Hockey League in June 1958. One of many veteran additions made by Punch Imlach. (Photo by Imperial Oil-Turofsky/Hockey Hall of Fame)

Imlach briefly worked with coach Billy Reay, but made the decision that a change had to be made. He fired Reay on November 28, stepping behind the bench himself as interim coach. Although he approached a few candidates, Imlach finally assumed the coaching position permanently.

Imlach's strategy was to blend a foundation of outstanding youngsters, including Frank Mahovlich, Dave Keon and Carl Brewer, with steady, productive veterans. The team already had Olmstead, whom Imlach leaned on for assistance, briefly making the veteran his assistant coach, as well as an improvement in goal with Johnny Bower. He went on to add Allan Stanley from Boston to add stability to a young blueline corp. He also claimed Larry Regan on waivers from Boston and traded for Gerry Ehman of the AHL's Hershey Bears.

"When I first came to Toronto, they had a bad hockey team," stated Bert Olmstead. "They had to make changes and they made changes. Every change that Imlach made was a good change. We ended up with a bunch of good people in the dressing room."

During the '58-'59 season, Imlach predicted that the Leafs would make the playoffs. Regarded as a hockey heretic with that statement, sure enough, the team defeated Detroit 6-4 on the final night of the regular season, with Regan scoring twice and adding two assists. The victory gave Toronto a berth in the playoffs. "Many of us look back at that game as the night we started to turn things around," recalled Billy Harris several years later. The Maple Leafs eliminated Boston before losing to the Montreal Canadiens in the Stanley Cup final.

"By the time 1959-60 showed up, we had a confident team," said Dick Duff. Indeed they were. Toronto went to the Stanley Cup final for a second straight season, although they ultimately lost to Montreal once again.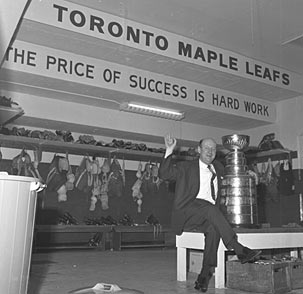 Punch Imlach in the dressing room at the conclusion of Game 6 of the 1967 Stanley Cup Final at Maple Leaf Gardens. (Photo by Imperial Oil-Turofsky/Hockey Hall of Fame)

Imlach continued to make shrewd deals to strengthen his club. Through the course of the decade, he picked up Red Kelly from Detroit, Larry Hillman from Boston, Al Arbour from Chicago, Ed Litzenberger from Detroit, Kent Douglas from Springfield of the AHL, Andy Bathgate from New York and Terry Sawchuk from Detroit. All added considerable depth to the youth who were making themselves invaluable to the Maple Leafs roster.

By the time the league doubled in size to twelve teams in 1967-68, changing the NHL landscape indelibly, Punch Imlach and the Toronto Maple Leafs had won the Stanley Cup on four occasions: 1962, 1963, 1964 and 1967.

"A good coach doesn't win hockey games but a bad coach can lose hockey games," mentioned Bob Pulford. "Imlach was obviously a good coach because he won with a good team. He was loyal. When we had the right mix of people, he knew how to get the most out of them."

"I don't know if Punch was lucky. We could discuss whether we would have won the Stanley Cups without Imlach for the next 100 years," mused Billy Harris. "We might have won some Stanley Cups with anybody as a coach. Maybe we could have won more Stanley Cups. Maybe we should have won ten."

Johnny Bower was simply proud to be a part of the dynasty that was awarded the Stanley Cup on those four occasions. "We were certainly happy we won as many as we did, particularly me, because when you are at the stage when you are playing at 35, 36, 37 (years of age), you are getting old and not too many goalies last that long. So, I always considered myself pretty lucky and happy that I was on four Stanley Cups."

Kevin Shea is the Editor of Publications and Online Features for the Hockey Hall of Fame.