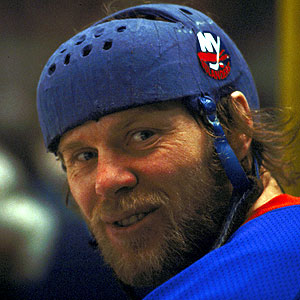 Butch Goring was acquired from the Los Angeles Kings by the New York Islanders on March 10, 1980. (Photo by Paul Bereswill/Hockey Hall of Fame)

During the 1979-80 season, New York Islanders' GM Bill Torrey and coach Al Arbour felt that the team was just a player or two away from being able to capture the franchise's first Stanley Cup championship. They realized that one area that needed to be addressed was a number two centre to take some of the pressure off Bryan Trottier.

Torrey had been working on a trade that would have brought Darryl Sittler from the Toronto Maple Leafs to the Islanders in 1980. When he couldn't consummate that deal, he instead turned to the Los Angeles Kings, seeking Butch Goring. Goring was into his eleventh season with the Kings and was coming off his fourth consecutive season in scoring 30 or more goals. "It was the 1979 playoff series between the Kings and the Boston Bruins that sold Torrey on Goring's play," recalled Islanders' broadcaster, Jiggs McDonald. "It was his tenacious forechecking, faceoff capabilities and penalty killing, all the while playing as the number two centre behind Marcel Dionne."

On March 10, 1980, the Islanders sent right winger Billy Harris and defenceman Dave Lewis to Los Angeles and received Robert 'Butch' Goring in return.

Mike Bossy remembers the day well. "I walked into the Coliseum for practice that day and before anybody said a word, I sensed that something big had happened. Before I could ask, I knew. There were Lewie (Dave Lewis) and Harry (Billy Harris) in the dressing room, both red-eyed from crying, both shocked beyond belief. These were two of the best-liked guys on the team. Harry had been an Islander since Day One, the first draft choice in the team's history."

The trade wasn't popular with the players and fans at first, but that quickly changed, explained Jiggs McDonald. "Two popular Islanders, Billy Harris and Dave Lewis, had been traded for Goring, but it didn't take the players long to recognize what Butch brought to the chemistry of their team, and within a couple of games in front of the Long Island faithful, Butch would feel their love, a love that remains in place today as he works for the Islanders as an analyst on their television broadcasts."

Goring was a whirling dervish in the post-season, named the Conn Smythe Trophy winner as the playoff's most valuable player while scoring 7 goals (three in the Stanley Cup final) and adding 12 assists for 19 points. But it was his hard work and leadership, in tandem that helped lead the Islanders to that first Stanley Cup in 1980.

"Denis Potvin, Bryan Trottier and others have told me about Butch's first words when he arrived in the Islanders' dressing room," smiled Jiggs. "He said, 'You guys don't know how good you are! You've got every aspect of the game covered. Now we just have to go out and win, and we will!' And they did!"

Kevin Shea is the Editor of Publications and Online Features for the Hockey Hall of Fame.