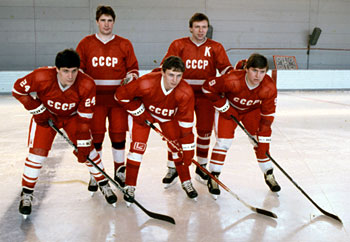 The Green Unit - Vladimir Krutov, Igor Larionov, Sergei Makarov, Vyacheslav Fetisov and Alexei Kasatonov

The maturing of the Soviet hockey program had taken place over the course of several years. Some would argue that it reached its zenith with the Summit Series in 1972, but there is no doubt that the Soviet hockey dynasty of the 1980s came about, in large part, on the backs of Vladimir Krutov, Igor Larionov and Sergei Makarov. The three joined CSKA Moscow as the team's top line, nicknamed the KLM Line after the first initials of their surnames, at the start of the 1980s. The KLM Line went on to dominate both the Soviet League as well as international play, where they contributed so significantly to the Soviet National Team. Joined on the National Team by the defence pair of Vyacheslav Fetisov and Alexei Kasatonov, they formed a five-man unit tagged the 'Green Unit' for the green jerseys they wore during practices.

Igor Larionov was the intellectual centre, defensively responsible with a talent for giving his linemates pinpoint perfect passes. Vladimir Krutov, a tank of a winger, used robust play combined with speed to work the corners and the front of opposing goals while Sergei Makarov displayed blazing speed and a rocket of a shot to complete the triad. Krutov, Larionov and Makarov led the Soviet Union to World Hockey gold in 1981, 1982, 1983, 1986, 1989 and 1990. They took the Canada Cup in 1981 and, after settling for silver at the 1980 Winter Olympic Games, the Soviets captured the gold in both 1984 and 1988.

Fetisov led a revolt against authorities that prevented Soviet players from defecting to the National Hockey League, but that changed at the end of the decade. A political change - glasnost - finally saw Soviet authorities relent, and in 1989-90, eight players were granted the opportunity to pursue careers in North America with the NHL, provided that they agreed to compete internationally for the Soviet Union. Fetisov, Krutov, Larionov and Makarov were joined by Helmut Balderis, Sergei Mylnikov, Sergei Priakin and Sergei Starikov. They were sold in order to infuse the cash-strapped Sovintersport, the governing body for sports in the Soviet Union, which would draw a portion of the players' NHL salaries.

The heart of the Soviet dynasty moved to North America. Larionov and Krutov, both 29 years old, joined the Vancouver Canucks. Fetisov, 31, became a member of the New Jersey Devils and Makarov, also 31, joined the Calgary Flames.

Kevin Shea is the Editor of Publications and Online Features for the Hockey Hall of Fame.