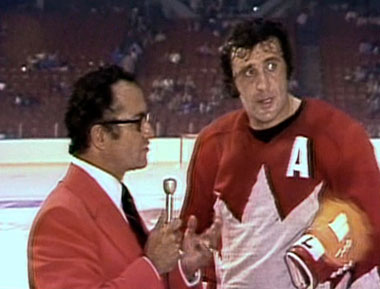 CTV's Johnny Esaw interviews Canada's Phil Esposito after a Game 4 loss to the Soviet Union at the Pacific Coliseum in Vancouver during the 1972 Summit Series. (Photo by Hockey Hall of Fame)

The Summit Series of September 1972 had more emotional ups and downs than a rollercoaster. Going into the series, the Hockey News conducted a poll of industry experts, and not one gave the Soviets a chance of winning the series. Yet, on Canadian soil, the fit and savvy Soviets won two games and tied one, with Canada winning a single contest.

Game Four, played in Vancouver, is considered the lowest point of the eight-game series for the Canadians. "That loss was a shocker because we seemed to lose not only our poise, which was discouraging, but we also seemed to lose our fans, and that was a real blow to me and the players," remembered Harry Sinden, Team Canada's coach.

"It was especially disappointing to hear the people boo us after the loss in Vancouver," states Phil Esposito. "I tried to tell the country how we felt when I went on TV after the game. I told them I couldn't believe they were booing us. I told them the Russians had a good team and we were all trying our best; that we all agreed to play because we loved Canada. That's the reason we agreed to play!"

Harry Sinden continues: "After the Vancouver loss, I knew Phil Esposito was out there on the ice giving an interview on television. I had no idea it was such an emotional speech. I didn't hear it until I got back to the hotel and watched it on TV with John Ferguson. I was moved by it, like I think most Canadians were. Phil was just dripping with sincerity. I think Phil's honest, straightforward appeal contributed greatly to us not losing faith."

"Phil's speech was very important to the team," adds forward Ron Ellis. "A lot of us didn't see it - we just heard about it. We had a pretty good idea what Phil was saying. He came back to the dressing room and shared what he had said. You could tell he meant every word because he was so emotional about it. It was Phil's speech that really forced people to make their own decisions. They certainly picked the right guy to represent the team that night. I think that any of the players who might have been interviewed that night would have said something along the same lines, but not with the passion that Phil Esposito expressed. I really think that the fans over the next couple of days talked about that speech and said, 'Wow! Maybe that Russian team is better than we thought and our team has been caught off guard. Maybe it's time to get behind our guys.' Over the next few days, Canadian hockey fans did just that."

After the contest in Vancouver, the deflated team returned to Toronto, spent the night and then flew to Sweden. "There was no one at the airport to see us off," recalls Ellis. "That was quite disappointing because the guys were really putting out. We were low, low, low, low, low."

The Canadians played a pair of games against the Swedish National Team before heading off to Moscow, and that break served to acclimatize the squad to the larger European ice surfaces and the time change, but it also galvanized the team. Ellis admits, "Sweden is where we became a team. If we had gone straight into Moscow from Vancouver, we would have had big problems." There was dissension within Team 50, as the squad called itself at the time. Vic Hadfield left to return to the Rangers, and Punch Imlach convinced Rick Martin to return to Buffalo if he wasn't playing. Gilbert Perreault joined his linemate after the first game in the USSR. Jocelyn Guevremont left to return to the Canucks' training camp.

When Team Canada arrived in Moscow, they were greeted by their wives as well as a staggering 10,000 telegrams of support from fans in Canada. More than 3,000 Canadians also made the trip to Moscow to cheer on their team for games five through eight.

They didn't return home disappointed.

Phil Esposito's speech, delivered candidly and passionately after Game Four, rallied the nation behind their team. There was a new momentum from that point on, and with a renewed spirit and confidence, as well as the fortuitous timing of a break to consolidate the squad before moving into Moscow for Game Five, Esposito's television appearance can rightfully be declared the turning point of the historic Summit Series.

Kevin Shea is the Editor of Publications and Online Features for the Hockey Hall of Fame.