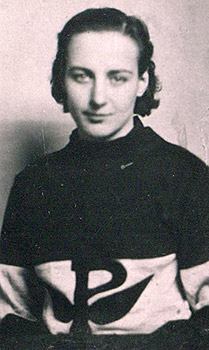 Hilda Ranscombe led the Preston Rivulettes to six Dominion championships and it was her fame that enabled a women's league to flourish in Ontario and for women's hockey to become popular right across the country. (Hockey Hall of Fame)

Hilda Ranscombe as born in Doon, Ontario, now included within Kitchener. She was an all-around athlete, excelling in softball among other sports, and learned to skate on Cressman Pond adjacent to her family's home.

While discussing ways to stay active during the winter, the members of the Preston Rivulettes softball team decided to form a hockey team. In spite of a lack of experience, the team was an immediate success, winning the Ladies Ontario Hockey Association championship, led by their captain, Hilda Ranscombe.

Much of the team's extraordinary success can be attributed to Hilda Ranscombe, who served as team captain through the Rivulettes entire ten-year duration. She was a strong skater with dazzling speed and excellent stickhandling skills. Mary McGuire, an opponent with the Stratford Aces, recalled that "Hilda was, without a doubt, the best female hockey player in the world." Former Detroit Red Wing Carl Liscombe knew Hilda and her sister Nellie from playing hockey with and against them on the Grand River in Preston. "Hilda was just as good as any boy, and better than most, myself included," he stated. "When we picked teams, she was always the first one chosen."

Not just a great player, Hilda Ranscombe was a great teammate. "Hilda took me under her wing, showing me some of the finer skills and how to be a professional both on and off the ice," remembered Ruth Dagel. "She was our captain, and patiently and enthusiastically shared her knowledge and love of the sport."

In 1999, Hilda Ranscombe was named Female Athlete of the 20th Century by the Cambridge Sports Hall of Fame. As the key member of the Preston Rivulettes, she entered Canada's Sports Hall of Fame in 1996, and a year later, was inducted into the Cambridge Sports Hall of Fame.

Kevin Shea is the Editor of Publications and Online Features for the Hockey Hall of Fame.