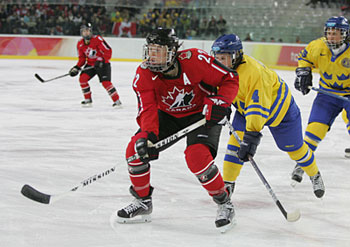 Hayley Wickenheiser led the 2006 Olympic Winter Games in scoring with 5 goals, 12 assists and 17 points and was named the tournament's Most Valuable Player. (Photo by Hockey Canada Images)

By the time the Olympic Winter Games of 2006 approached, the powers in women's hockey for at least a decade were Canada and the United States. The two hockey leaders in women's hockey competed ferociously for supremacy.

In 1998, at the inaugural tournament for women's hockey at the Olympics, it was Team USA who captured the gold medal, with Canada relegated to silver. The tables turned in 2002 when Canada took Olympic gold and the United States took the silver.

While hockey was developing in other countries, there seemed to be any reason to suggest that the gold medal game at the 2006 Olympic Winter Games wouldn't feature Canada versus the United States. But the hockey gods had different ideas.

While Canada advanced easily to the gold medal game, Team USA was stunned, losing 3-2 in a shoot-out to Sweden; a team that had never beaten their American opponents.

Team Canada was exceptionally well-balanced from front to back, but no team except Canada had a player as dominant as Hayley Wickenheiser to lead its attack.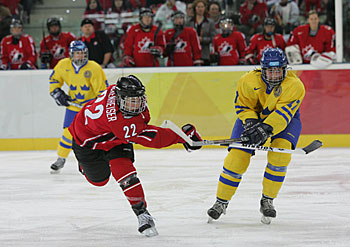 Wickenheiser fires a shot on goal during the 2006 gold medal game. (Photo by Hockey Canada Images)





Wickenheiser had participated in the Olympic Games of 1998, registering a tournament-best 6 assists and named to the tournament all-star team in Nagano, Japan. At the Winter Games in 2002, Wickenheiser led all participants in scoring and was named the Olympic Games' Most Valuable Player as she led Team Canada to a gold medal. And in 2003, she had actually become the first woman to score a goal in a men's professional hockey game, accomplishing that feat with Kirkkonummi Salamat in Finland's Division II league.

There was no doubt that Hayley Wickenheiser was one of the keys to the Canadian attack at the Olympic Winter Games of 2006, and she didn't disappoint, even though she was playing with a broken wrist! The defending champions won once again, with Hayley leading the way with a tournament-best 17 points. She was named Most Valuable player, Best Forward and was selected for the Media All-Star Team.

Could Canada have won Olympic gold in 2006 without Hayley Wickenheiser? It is likely that they could, as it was a well-balanced team with plenty of firepower, but having Hayley Wickenheiser on your side — a skilled, power forward with experience and competitive fire — certainly tilted the scales in favour of Team Canada.

Kevin Shea is the Editor of Publications and Online Features for the Hockey Hall of Fame.