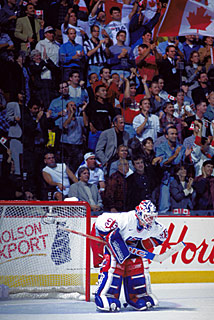 Team USA's Mike Richter
(Photo by Doug MacLellan/HHOF)

The United States had a powerhouse on offence, with five members of their roster finishing in the tournament's top ten. Brett Hull led all scorers in both goals (7) and points (11). Although born in Canada, Brett chose to participate with the United States team, having lived and played in the States for so many years.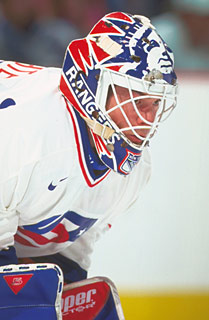 Team USA's Mike Richter
(Photo by Ottawa Senators/HHOF)

John LeClair was on his heels with 6 goals and 10 points. Both Hull and LeClair selected to the World Cup All-Star Team, joined at forward by Mats Sundin of Sweden. Doug Weight and Brian Leetch both finished with 7 points: Weight with 3 goals and 4 assists while Leetch earned all of his points on assists. Keith Tkachuk collected 5 goals and 6 points to also finish within the top ten. The All-Star Team squad also included Chris Chelios of the U.S., joined on the blueline by Calle Johansson of Sweden.

But the turning point of the series was the play of Mike Richter. The New York Rangers' netminder played the series of his life. In the final game against Canada, with the score tied 1-1, Richter played with extraordinary skill, holding the United States in the game when Canada attacked in constant waves. The second period saw Canada dominate in a way that few teams had ever done in international play. Several journalists suggested surprise that Canada didn't score 5 or 6 goals, but Richter stood firm, giving his team the opportunity to survive the onslaught, score a pivotal goal and go on to win not only the game but the tournament.

For his efforts, Mike Richter not only was named the tournament's All-Star goalie, but was named the most valuable player of the World Cup of Hockey in 1996.

Kevin Shea is the Editor of Publications and Online Features for the Hockey Hall of Fame.