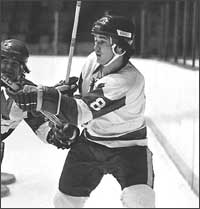 Paul Coffey averaged better than a point per game during his three seasons in junior, including a personal-high 72 assists for the 1978-79 Sault Ste. Marie Greyhounds.

Smooth-skating Paul Coffey embodied everything an offensive defenseman could be - lightning fast, skilled playmaker, booming shot, savvy -- yet still able to defend his team's zone employing blinding speed.

Born June 1, 1961 in Weston, Ontario, after two seasons of junior, Paul Coffey was drafted by the Edmonton Oilers using their first pick in the 1980 Entry Draft. It was perfect timing for both sides - the Oilers were a highly skilled, offensively explosive club and Coffey's skill set fit in perfectly as the quarterback of the dynamic young team.

In his second season, 1981-82, Paul led all NHL defensemen with 89 points and was chosen for the Second All-Star Team. In 1982-83, he collected 96 points, but it was his 126 points in 1983-84 that put him second only to teammate Wayne Gretzky in the NHL scoring race that year. That season, the Edmonton Oilers won the first Stanley Cup in franchise history.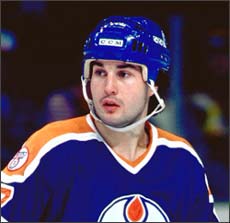 Paul Coffey had a solid rookie season in the NHL, recording 32 points in the regular season and leading all Oiler defensemen with seven points in the playoffs.

On his way to helping lead the Oilers to their second straight Stanley Cup, Paul Coffey won the Norris Trophy as the National Hockey League's best defenseman and was selected to the First All-Star Team in 1984-85, a feat he replicated in 1985-86 in a season that can only be considered extraordinary. Coffey finished third in scoring with 138 points, including 48 goals.

Prior to the 1986-87 season, Coffey was traded to Pittsburgh, where he was able to further his exploits. In both 1988-89 and '89-90, Paul cracked the 100-point plateau for the fourth time. Coffey helped the Penguins win their first Stanley Cup in 1990-91.

In February 1992, Coffey was moved to the Los Angeles Kings, the third of what would eventually be nine teams on his NHL resume. In January 1993, it was off to Detroit, but an injured knee hampered his play that season. By the following season, he had rebounded and not only led the Red Wings in scoring but was once again awarded the Norris Trophy as the league's top defenseman.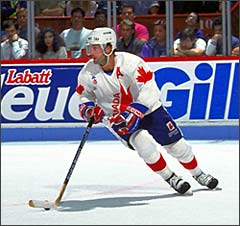 Coffey represented Canada at four Canada/ World Cup tournaments (1984, '87, '91 and '96)

Paul's stay in Detroit lasted until October 1996 when he was traded to Hartford. Midway through the season, Coffey landed in Philadelphia. During the summer of 1998, the Flyers traded Paul to the Chicago Blackhawks, but after ten games, he was traded to the Carolina Hurricanes. Coffey's last stop was with the Boston Bruins, where he signed as a free agent in 2000. After eighteen games, Paul ended his fantastic National Hockey League career; one in which he reached pinnacles seldom even dreamed of -- 396 goals and 1,135 assists gave the skilled defenseman 1,531 points in 1,409 regular season games. Paul also contributed 196 points, comprised of 59 goals and 137 assists, in 194 playoff contests.

Through twenty-one NHL seasons, Paul Coffey was named to either the First or Second All-Star Team eight times, and as the Norris Trophy winner on three occasions. In 2004, the spectacularly gifted Paul Coffey was selected to be an Honoured Member of the Hockey Hall of Fame.



| | |
| --- | --- |
| | |
| Paul earned his fourth and final Stanley Cup ring with the 1990-91 Pittsburgh Penguins. | Coffey ended his NHL career with Boston having collected 1,531 career points, making him the second most prolific scoring defenseman in NHL history. |