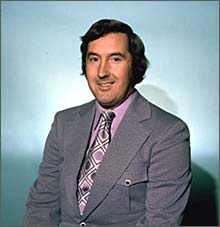 Cliff Fletcher joined the expansion St. Louis Blues in 1966 and later served as the team's assistant general manager.

One of the most respected executives in hockey, Cliff Fletcher was born August 16, 1935 in Montreal, Quebec.

Fletcher began his hockey career in 1956 with the Montreal Canadiens organization as the general manager of the Verdun Blues junior hockey team. In 1966, he joined the expansion St. Louis Blues and later became their assistant general manager. When the Atlanta Flames were granted an NHL franchise, Fletcher was hired as the general manager, and helped executive the team's subsequent move to Calgary in 1980. During Cliff's eleven-year regime with the Flames, Calgary won the Presidents Trophy twice, won the Campbell Conference twice and won two Smythe Division titles, as well as a much-celebrated Stanley Cup championship in 1989.

Lured to Toronto, Fletcher spent six seasons as Chief Operating Officer, President and General Manager of the Maple Leafs. During that period (1991 to 1997), Toronto reached the Conference Finals in 1993 and 1994, while Fletcher was named the 1993 Executive of the Year by The Hockey News.

Cliff joined the Tampa Bay Lightning in 1999 for two years as Senior Advisor to General Manager, then was hired by the Phoenix Coyotes as Executive Vice-President and General Manager in 2001. A year later, he was named Senior Executive Vice-President of Hockey Operations of the Coyotes.

After an outstanding forty-eight year career that still continues in the National Hockey League, Cliff Fletcher was elected to the Hockey Hall of Fame as a Builder in 2004.


| | | |
| --- | --- | --- |
| | | |
| Fletcher was named the inaugural general manager of the Atlanta Flames when they joined the NHL in 1972 and guided the team in its move to Calgary. During his 12 seasons with the franchise, the Flames made the playoffs 16 straight seasons collected their only championship. | | Fletcher currently holds the position of Senior Executive Vice President of Hockey Operations for the Phoenix Coyotes. |