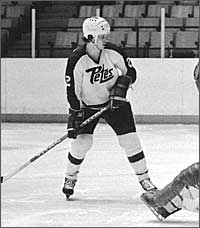 Larry Murphy appeared in two Memorial Cups as a member of the OMJHL's Peterborough Petes, winning the championship in 1979.

The story of Larry Murphy is one of perseverance and longevity. Quietly yet efficiently, Murphy has delivered one of the most productive careers of any blueliner in NHL history.

The story begins March 8, 1961 in Scarborough, Ontario. Moving back and forth between forward and defense on his minor league teams, when the only spot available on the team with which Murphy wanted to play was defense, he shrugged, accepted the role and played on the blueline from that day forward. It turned out to be an outstanding decision. After earning an OHA First All-Star Team berth in 1980, Larry was the first pick of the Los Angeles Kings that summer.

Jumping straight to the National Hockey League, Murphy proved that his skills were legitimate. In his freshman season (1980-81),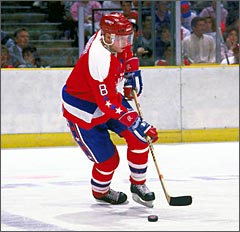 One of the most lopsided trades of all-time occurred when the Washington Capitals acquired Murphy from Los Angeles for Ken Houston and Brian Engblom in 1983. Houston and Engblom scored a combined 93 points over the remainder of their careers while Murphy added another 1,009 points before retiring in 2001.

Murphy recorded an NHL defenseman record 76 points. Early in his fourth season with L.A., Larry was traded to Washington and continued to prove that he was a gifted offensive defenseman. In 1986-86, he was selected for the NHL's Second All-Star Team. But just before the playoff run in 1989, Murphy was sent to the Minnesota North Stars. In December 1990, Murphy again changed teams, going to Pittsburgh where he helped the Penguins win the Stanley Cup championship both that year (1991), then again in 1992. Larry was a Second Team All-Star again in 1992-93, enjoying a career year with 85 points, compiled from his 22 goals and 63 assists. Murphy was a Second Team All-Star again in 1995 with Pittsburgh, but was traded to the Maple Leafs that summer. Preparing for a Stanley Cup run, Detroit secured the talented defenseman in a transaction with Toronto in 1997, and Larry contributed to the Red Wings' Stanley Cup victory that spring. For the second time in his career, Larry was part of a back-to-back championship, winning again with Detroit in 1998.

Larry Murphy retired in 2001 having collected 287 goals and 929 assists for 1,216 points through 1,615 regular season contests. In 215 playoff games, Larry added 37 goals and 115 assists for 152 points. Steady and reliable, Larry Murphy was named to the Hockey Hall of Fame in 2004.


| | | |
| --- | --- | --- |
| | | |
| Larry won his first of four Stanley Cup titles with the 1990-91 Pittsburgh Penguins. | | Murphy was a key performer during Detroit's back-to-back championships (1998 & '99). He finished his career with 115 playoff assists, ranking him 10th all-time. |