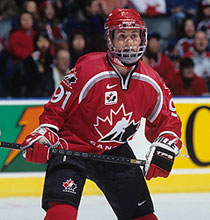 Geraldine Heaney participated in every Women's National Championship from 1987 to 2001-the only player to do so.

Ireland is known for a lot of things, but hockey certainly wouldn't be the first thing that comes to mind. And yet, one of the greatest players in women's hockey was born in Lurgan, County Armagh, Northern Ireland: Geraldine Heaney. In fairness, the Heaney family moved to North York, Ontario when Geraldine was one. Irish by birth, but raised in Canada.

Like so many children of the era, Geraldine was recruited to play goal while her brothers took shots on her on the outdoor rinks. Soon, Geraldine discovered that it was more fun to shoot than to be shot on, and she moved outside the crease. By the age of ten, Geraldine was registered on a girls' team, playing with and against girls five and six years older than her, but it helped escalate her play. In 1980 at the age of 13, she joined the Toronto Aeros of the Ontario Women's Hockey Association (OWHA), beginning a career that lasted 18 seasons. During that time, the Aeros won six provincial championships and Heaney was named the league's top defenceman in 1987-1988, 1991-1992 and 1992-1993.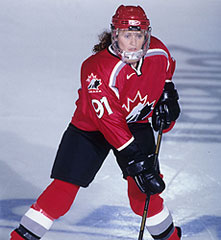 Heaney won seven IIHF World Championship Gold medals.
Geraldine was the only player to appear in the Esso Women's National Hockey Championship every season between 1987 and 2001. She was named Best Defender at the 1993, 1997 and 2001 tournaments and was the Most Valuable Player in 1992. She earned gold medals at the 2000 and 2004 Esso Women's National Hockey Championship, and a bronze medal at the 2001 tournament. The Toronto Aeros recognized her superb 27-season career by retiring her number 91 in 2006.
Geraldine played for the Canadian National Women's Hockey Team, winning gold medals at the IIHF World Women's Championships in 1990, 1992, 1994, 1997, 1999, 2000 and 2001. In doing so, she was the only player to have played in all seven of those gold medal wins. Heaney was named an All-Star in the 1992 and 1999 championships. At the 1992 and 1994 championships, she earned the Directorate Award as the tournament's best defenceman.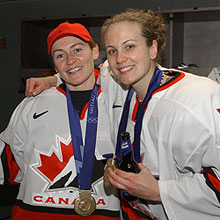 Geraldine Heaney captured Olympic gold in 2002.
Women's hockey was added as an Olympic sport in 1998, and Geraldine was named to Canada's inaugural team. She scored twice and added four assists as Team Canada collected the silver medal at the Winter Olympic Games that year in Nagano, Japan, losing to Team USA. Geraldine planned to make the 2002 Winter Olympics in Salt Lake City, Utah her swansong. It was a fitting end to her Olympic career. Canada got retribution by defeating the United States to win the gold medal at the 2002 Olympic Games.
A pioneer in women's hockey, Geraldine Heaney revolutionized the defence position in the women's game. Her offensive prowess from the back end was outstanding. In 2008, Heaney was joined by Cammi Granato of the United States and fellow Canadian Angela James in being inducted into the IIHF Hall of Fame. She followed her colleagues into the Hockey Hall of Fame in 2013 and was inducted into Canada's Sports Hall of Fame in 2014.
As the growth of women's hockey explodes, Geraldine is proud of the role she and her peers have played in introducing the game to a new generation. "There are so many young girls playing hockey now, it's amazing! I really feel we need to promote the game worldwide, not just in Canada."
Career International Tournament Statistics

Year
Tournament
No.
GP
G
A
TP
PIM
1990
Women's World Championship
5
6
8
4
1992
Women's World Championship
5
0
6
6
2
1994
Women's World Championship
5
1
6
7
8
1996
Pacific Women's Championship
5
2
5
3
0
1997
Women's World Championship
5
1
4
5
0
1997
3 Nations Cup
5
0
2
2
6
1998
Olympics
6
2
4
6
2
1998
3 Nations Cup
4
0
0
0
2
1999
Nat. Women Tour
4
1
0
1
2
1999
Women's World Championship
5
3
0
3
4
2000
Nat. Women Tour
2
0
0
0
2
2000
Women's World Championship
5
0
1
1
4
2000
4 Nations Cup
4
3
1
4
4
2001
Nat. Women Tour
7
0
5
5
4
2001
Women's World Championship
5
1
5
6
0
2001
3 Nations Cup
4
0
1
1
2
2002
Olympics
5
0
2
2
0
Total - IIHF Women's WC
41
8
28
36
22
Total - Olympics
11
2
6
8
2
Total - Career
120
27
64
91
62
Total - NWHL
128
49
117
166
n/a