---

1998 Inductees, Player Category

---
Michel Goulet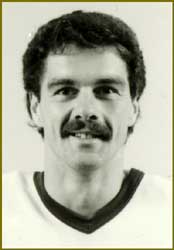 Throughout the 1980's, Michel Goulet proved to be one of the more consistently high scoring left wingers in the National Hockey League. He managed to accomplish this while under the intense scrutiny of the hometown Quebecois fans.

Michel was born in Peribonka, Quebec on April 21, 1960 and was the fifth of eight brothers. He would sneak away early in the morning to the local high school arena for a skate before heading to class, then returning home to help with the farm chores. Michel's skill and passion for the game led him to Quebec City, where he would play his junior hockey for the local Remparts. In 1977-78, his second and final junior season, Goulet scored 73 goals to lead his team.

In 1978, Goulet elected to skip his final two seasons of junior eligibility and join the World Hockey Association's Birmingham Bulls. Goulet scored 28 goals in his only season with the Bulls and learned the defensive aspect of the game from coach John Brophy. Following the 1978-79 season, Michel was drafted by the Quebec Nordiques in the first round of the 1979 NHL Entry Draft and embarked upon a fifteen year NHL career.

In his first four seasons with the Nordiques, Michel gradually increased his production, amassing a career high 57 goals in 1982-83. This led to four consecutive 50 plus goal seasons and a career high point total of 121 in 1983-84. Also over this span, Goulet led Quebec to two Stanley Cup semi-final appearances. Michel spent three and a half more seasons with the Nordiques, counting two 40 plus goal totals. Over his time in Quebec City, he had played in five All-Star games, had been selected a First Team All-Star three times and a Second Team All-Star twice. On March 5, 1990, Michel was traded to the Chicago Blackhawks where he would spend four and a half seasons culminating in a trip to the Stanley Cup final in 1992. He had three 20 goal seasons with the Blackhawks and would eventually be forced to retire after suffering a serious head injury on March 16, 1994.

In addition to his NHL experience, Michel was also a veteran of the international game, representing Canada on three separate occasions. After his tremendous 1982-83 season, Michel was asked to play for his country at the 1983 World Championships in West Germany. He accepted and promptly went on to score nine points in the tournament, tying Hall of Famer Marcel Dionne for the team lead and helping Canada capture the bronze medal. As well, Michel also participated in both the 1984 and 1987 Canada Cup competitions. He was a formidable force in '84, tying for second in tournament scoring with eleven points, behind only Wayne Gretzky, as Canada defeated Sweden in the final. During the '87 tourney Michel proved to be a strong asset, scoring five points as Canada captured a second consecutive tournament.

Michel officially announced his retirement on January 26, 1995, after a career that included 548 goals and 1,152 points, currently placing him in 15th place on the career goal list. Following his retirement, the Quebec Nordiques held "Michel Goulet Night" at the Colisee and retired his number sixteen. Michel is currently employed by the Colorado Avalanche as their Director of Player Personnel and in that role he was a part of the 1995-96 Stanley Cup Champions.