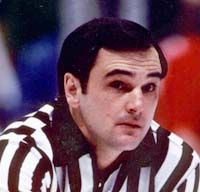 Referee / Linesman Category
For three decades Andy Van Hellemond patrolled the ice for the National Hockey League as one of the premier referees in hockey. In 1996 after officiating in 19 of the last 20 Stanley Cup Finals, Andy Van Hellemond hung up his skates and his striped jersey for what he thought would be the last time.

After playing junior hockey as a centre, Van Hellemond began officiating minor-league games in his hometown of Winnipeg, Manitoba. After working two years in the Western Hockey League, Van Hellemond signed a minor-league contract with the National Hockey League in 1970. After famed official Bruce Hood hurt his knee early in the 1972-73 season, Andy Van Hellemond refereed his first NHL game season at the tender age of 23. During the course of the next 25 seasons, Van Hellemond redefined the role of the official. An amazing 14 consecutive times, Van Hellemond was ranked as the NHL's #1 referee. He also holds the record for most regular season games (1,475), playoff games (227), and Stanley Cup Final appearances (19).
Andy Van Hellemond officiated in two All-Star games, the 1979 Challenge Cup Series and Rendez-Vouz '87. Van Hellemond also served as President of the Officials Association.
On June 8, 1996, Andy Van Hellemond dropped the puck for the last time in the National Hockey League; game three of the 1996 Stanley Cup Finals in Miami, Florida. The Colorado Avalanche was playing the Florida Panthers. Van Hellemond was scheduled to officiate Game 5, but the Avalanche had different thoughts. The Av's captured their first Stanley Cup in Miami a couple of days later in four games.
The 1996-97 season saw Van Hellemond in a different role as Senior Vice-President of the East Coast Hockey League overseeing league and player operations. What goes around comes around in the world of hockey! AndyHellemond had to lace up his skates one more time during a ECHL game, Van as one of the officials scheduled to officiate the game couldn't make it, forcing Andy back into his "Gone but not forgotten" familiar role in hockey.