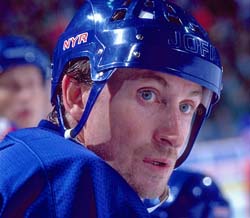 A product of Brantford, Ontario, Wayne Gretzky was born in January 26, 1961. By the age of 2, his father had Wayne on skates and by 5 he was a local attraction.
The making of a superstar was born. Wayne Gretzky was playing and excelling in the game of hockey with players twice his age and height. A record that is still held today has Gretzky scoring 310 goals with his Novice team. By the 1976-77 season he had caught the eyes of the Ontario Hockey Association. He played three games with the Peterborough Petes as an underage player before joining the Sault Ste. Marie Greyhounds a year later.
Wayne Gretzky turned professional at the age of 17 with the Indianapolis Racers of the World Hockey Association. After eight games Gretzky was traded to the Edmonton Oilers...and "The Great One" had arrived. Following the merge of the two professional leagues (WHA and NHL), Wayne Gretzky became the talk of hockey rinks around the world. During the 1980's, Gretzky won individual awards which included the Hart Trophy as the NHL's most valuable player nine times, as well as leading the league in scoring seven times. While an Edmonton Oiler, Gretzky re-wrote the record book in the NHL (by the time he retired he held over 60 NHL records).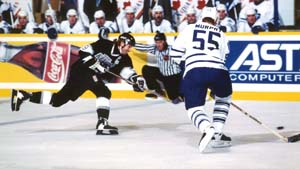 Following the 1987-88 season, Gretzky was traded to the Los Angeles Kings. Gretzky had an immediate impact not only with his new team, but also with hockey in the United States. Gretzky continued to dominate the league, and led his Kings to the Stanley Cup Finals during the Stanley Cup Centennial year in 1993.
After a brief stint in St. Louis during the latter part of the 1995-96 season, Gretzky finished his career on Broadway in New York. He spent three years as a Ranger before retiring following an emotional farewell speech in front of his beloved fans at the conclusion of the regular season in 1999.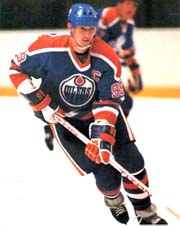 Along with his four Stanley Cup rings he won with the Oilers, Gretzky's award cabinet includes Lester B. Pearson Trophies (as MVP of the league voted by the players), Lady Byng Trophies (as the leagues most gentlemanly player) along with a host of other trophies and awards from All Star games and International tournaments and events.
But as important, Wayne Gretzky attended banquets and performed charity work. He signed autographs and put smiles on a million children's faces merely by being friendly and accommodating. As great as he was on the ice, he was as even more outstanding as an ambassador, a hockey humanitarian, a lover of the game and of life. Gretzky's induction into the Hockey Hall of Fame on November 22, 1999 confirms his place in society not only as one of the greatest players to represent the NHL but also one of the finest men hockey has ever known.