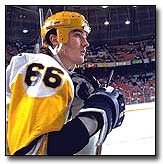 (February 4, 2002) -- Not many people are aware of this, but Mario Lemieux had an older brother who went to the NHL before he did. In fact, Alain played six years in the big show with three (teams) before retiring in 1987. But growing up together, the older brother had a tremendous influence on the adoring younger Mario. "I learned a lot just by watching him when I was young," Mario revealed to hhof.com just before the 2002 All-Star Game in Los Angeles. "I think every kid learns from his older brother. He was a very good hockey player, very skilled. He showed that by what he did in junior and by making it to the NHL."
Sure enough, Alain played well enough in junior to be drafted 96th overall by St. Louis in the 1980 draft. He made the team the following season, and although he was never a regular in the NHL, he certainly made an impression on young Mario and gave him a clear sense of what skills were needed to get there.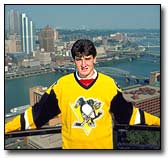 It isn't very often the younger brother outshines the older (think Frank vs. Peter Mahovlich) or the son becomes better than the father (think Gordie Howe vs. Marty and Mark), but when 18-year old Mario went first overall in the 1984 draft and then scored on his very first shift four months later, it seemed clear that that would be the case in the Lemieux family.
Although scoring and winning came easily to Lemieux, even in his first days in the NHL, pushing himself and developing not into just a star but into the best player he could possibly be, took a little more time and effort. "Speaking specifically of the Canada Cup in 1987," Lemieux acknowledged, "I learned so much about how the great players work and conduct themselves. Remember, I was only 21 years old at the time. To be around guys like Wayne and Mark Messier and Paul Coffey, guys who'd already had so much success and had won Stanley Cups, was a tremendous learning experience."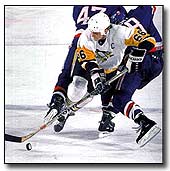 The result was that in the space of about six weeks, from Team Canada's camp to the final game of the series, a new, greater, more determined Mario Lemieux emerged. "I saw how hard they worked at practise. And the level of play, especially against the Soviet Union in the finals, was exceptional. It brought out the best in me." The long-term result was not a sense of relaxation at another, higher level, but of a desire to raise the bar even higher and look back both with pride and dissatisfaction, with a sense that he could do more, do better. "The Canada Cup was very intense, but it was a great springboard for the NHL season," he admitted. "I was fortunate enough to win my first scoring title that season [with 168 points]. The learning experience and the momentum of the Canada Cup were definitely factors in that."
Since that season, Lemieux has experienced three great moments in his life. The first came as a result of his development and the hard work of Pittsburgh general manager Craig Patrick to build a team around Super Mario. The fruition of these efforts resulted in consecutive Stanley Cups in 1991 and 1992, accomplishments that city could not have fathomed in the pre-Lemieux era. "The first time I saw my name on the Cup after we won in 1991 was a big thrill," Lemieux said, smiling. "When you're a kid growing up in Canada, it's your dream to have your name on the Cup, especially for a kid like me, growing up in Montreal and watching those Canadiens' teams win Cups. Guy Lafleur was my idol. I wanted to be like him."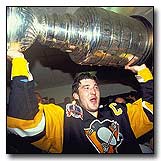 The second remarkable moment in Lemieux's life was his induction into the Hockey Hall of Fame immediately after retiring in 1997. It marked one of the rare occasions the Hall's Induction Committee has waived the mandatory three-year waiting period for eligibility, and no one argued this supreme gesture for one of the game's most gifted goal scorers. "It was a very special night," Lemieux said of his induction. "The biggest thing was being able to share that moment with my wife, Nathalie, and my family. They were all such a big part of me being there. My family is what I cherish the most."
Lemieux is also the third name in a most rare group, men who have played in the NHL after being inducted into the Hall. However, unlike Gordie Howe (who was 52 when he played in the league as an Honoured Member) or Guy Lafleur (who was 39), Mario retired at age 32 and returned at a young 35, having played only 745 career regular season games to date. In the interim, he fought a long, loving, and successful battle to gain ownership of the team in order to ensure its survival in the city of Pittsburgh. Once done, though, there was still a void in this athlete's life. "I learned how much I loved this game," he said of his thoughts during his absence. "Sometimes you don't appreciate something fully until you're away from it. And as I get older," he added with a chuckle of wisdom, "I have an even greater respect for the kind of conditioning level these young guys maintain. That was the biggest thing last year [his first year back]--just getting my conditioning back, getting my legs back."
Funny, but as much as he missed the game, the game missed him even more. Next time, don't leave so soon!
- Andrew Podnieks is the author of numerous books on hockey including the current The Essential Blue & White Book. He is also a regular contributor to Leafs.com and managing editor of A Day In The Life of the Leafs to be published in the fall of 2002.