12 MARCH 2010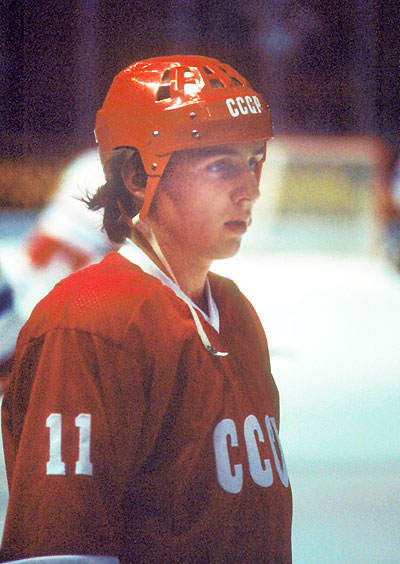 Igor Larionov as a member of the Soviet Union during game action at the 1984 Canada Cup. (Miles Nadal/HHOF)

While his look and demeanour earned the nickname 'The Professor,' in fact, Igor Larionov was a sensational hockey player, and assisted in eliminating the barrier that had previously prevented Russian hockey players from competing in the National Hockey League.

Igor Nikolayevich Larionov was born December 3, 1960 in Voskresensk, a town 88 kms (54 miles) from Moscow. From his first forays into hockey, Igor loved the game that would eventually bring him reknown. "Growing up as a young boy in a small town in Russia and just taking my first steps to the game, I was dreaming like any kid in Russia to play for my hometown and the National Team," Igor said. "I never had a chance to dream about the NHL because, at that time, it was the Cold War, and we never thought about it."

Larionov began to make a name for himself with Khimik Voskresensk of the Soviet League. At the age of seventeen in 1977-78, he appeared in six games, but by the next season, was a full-time member of the squad. By his fourth season, Igor collected 45 points, including 22 goals, in 43 games, and drew the attention of Viktor Tikhonov, the coach of the National Team. Larionov was invited to join the powerhouse CSKA Moscow team and was placed on a line centring Vladimir Krutov and Sergei Makarov. The trio dominated, and was quickly tagged the KLM Line. Igor scored a league-leading 31 goals and collected 53 points in 1981-82 playing for CSKA. The forwards were paired with defencemen Viacheslav Fetisov and Alexei Kasatonov on what was called the 'Green Unit' because of the colour of the jerseys they wore during practice.

Although Larionov starred for CSKA Moscow for eight seasons, including 1987-88 when he was named the league's most valuable player, it was an acrimonious relationship with Coach Tikhonov. Igor balked at the rigid system that allowed players little personal freedom. A division of the Soviet Army, CSKA confined players to the Archangel training facility for as much as eleven months a year. "It is a wonder our wives manage to give birth," he snorted to a Russian magazine.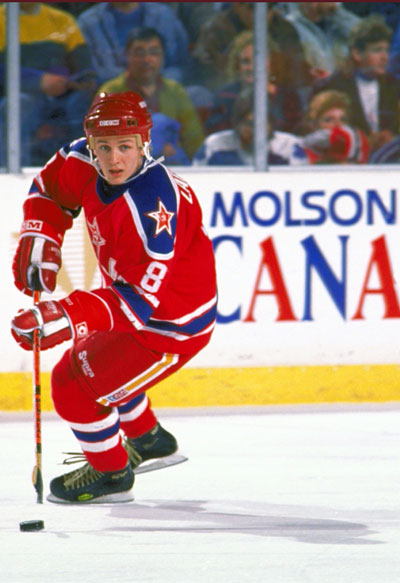 Igor Larionov as a member of CSKA Moscow during exhibition game action against the Pittsburgh Penguins. (Paul Bereswill/HHOF)

In tandem with Slava Fetisov, Larionov led a revolt against Soviet authorities that prevented Russian players from defecting to North America to play in the NHL. Igor had actually been drafted by the Vancouver Canucks in 1985, and while he would love to have moved to play in the NHL, that possibility didn't exist at that time. To ensure that he didn't defect, when CSKA was playing an exhibition series against NHL teams in December 1985, Igor was told by Tikhonov that there had been an error with his passport and he would not be able to join the team.

After several years of voicing his displeasure with the Soviet Hockey Federation about being refused the ability to play in the NHL, Larionov was finally allowed to join Vancouver in 1989-90. "Players over 30 weren't welcome in the (Russian) system," stated Larionov said. "They wanted younger players they could control." But there was a financial aspect, too. The cash-strapped Russian sports body received a portion of the players' salaries when they left to join the NHL.

While Larionov joined the Canucks, each of the other four members of the 'Green Unit' also joined NHL teams. In Vancouver, Larionov was joined by linemate Vladimir Krutov, but both struggled making the transition. Krutov lasted just one season in the NHL while Larionov played three seasons for the Canucks, getting progressively better each season as he adapted to the North American game and way of life. As a 29-year-old rookie, Larionov scored 17 goals and 44 points in 1989-90. In 1991-92, he potted 21 goals and had 65 points for the Canucks. While in Vancouver, Igor mentored another young Russian player - Pavel Bure.

In 1992-93, Igor decided to play in Switzerland, primarily so that Sovintersport, the Russian sports agency, would not be able to benefit from his NHL salary, but he chose to return to the NHL after a year away, signing with the San Jose Sharks for 1993-94. There, he was reunited with former CSKA teammate, Sergei Makarov. The two played integral roles in helping the Sharks jump from their previous 24-point season to an 82-point campaign. The 59-point improvement is the greatest single season jump made by any franchise in NHL history.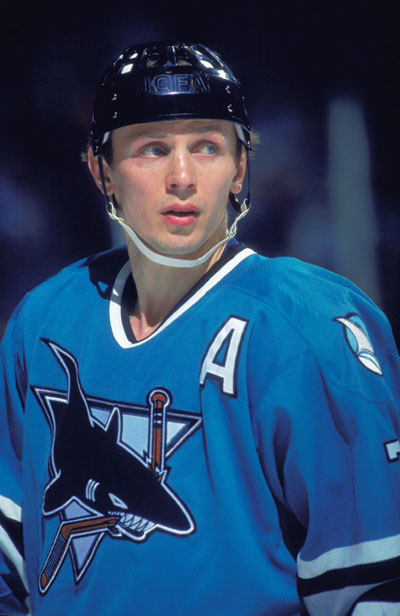 Igor Larionov as a member of the San Jose Sharks. (Chris Relke/HHOF)

The Red Wings acquired Larionov in 1995-96, and it was in Detroit where Igor enjoyed his most pronounced NHL success. A key player and mentor to other Russian players in Detroit, Igor was one of the 'Russian Five' along with Sergei Fedorov, Slava Fetisov, Vyacheslav Kozlov and Vladimir Konstantinov. The quintet was a dominant force. "I'll never forget the 'Russian Five' when they first started playing together," Kris Draper told the Detroit Free Press. "We couldn't believe they were playing on the same ice as we were, playing against the same guys, and yet they were so different, especially Igor with the puck. He would always seem to slow things down. Unbelievable passer, and you just can't say enough about the vision that he had out there on the ice. He was a huge part of our success and us winning Stanley Cups."

The veteran Larionov played for the Red Wings for eight seasons, although there was a brief hiatus in 2000 when he signed with the Florida Panthers, reuniting him with Pavel Bure, but Igor was traded back to the Red Wings before the end of the season. Fortunate for him, too, as that spring, he won his third Stanley Cup championship as a member of the Detroit Red Wings. Tomas Holmstrom marveled at the skill displayed by Larionov. "He was one of my idols growing up. We watched more the Russian national team than we watched the NHL, so I remember that line with Krutov, Larionov and Makarov in the '70s and '80s. For sure it was neat (that) I got a chance to play with him."

Igor commented on the differences between the style of hockey employed in Russia versus NHL hockey. "In the Soviet system, we played five-man units and they remained together for years. The KLM Line lasted for eight years. When I came here (to North America), I learned that lines might last only one or two games. You have to adjust your style of play and not be complaining about who is your teammate and just do your best for your team. With (coach) Scotty (Bowman) in Detroit, I had so many different linemates, but to me, to be able to play on a great team for a great coach with so many great guys, it didn't matter. It was part of my job to make the players who played with me better."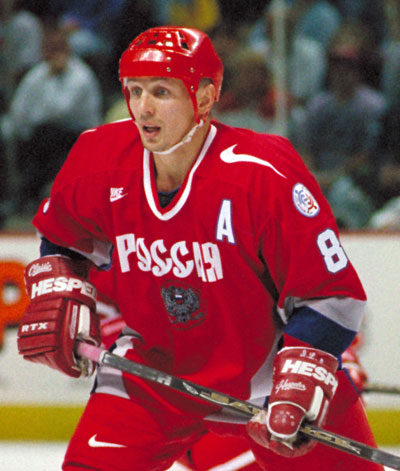 Igor Larionov as a member of Team Russia during 1994 World Cup action. (Doug MacLellan/HHOF)

Igor played his final NHL season with the New Jersey Devils in 2003-04, joining Soviet colleague Viacheslav Fetisov, who was an assistant coach with the team. While done with the NHL, Larionov finished his career with two seasons in Europe before retiring. While only planning to play in the NHL for three years since he was already 29 years old when he arrived in Vancouver, Igor played 14 seasons, scoring 169 goals and assisting on 475 more in contributing 644 points in 921 regular season games. But prior to venturing to North America, Larionov scored 204 goals and 230 assists for 434 points in 457 Soviet Hockey League games.

In international competition, Igor was equally proficient. He is a three-time Olympic medal winner, collecting golds in 1984 and 1988 and a bronze in 2002, all while playing for Russia. While competing for his homeland at the World Championships, Larionov was a recipient of four golds (1982, 1983, 1986 and 1989), one silver (1987) and one bronze medal (1985). He was also an instrumental member of the 1981 Canada Cup-champion Soviet team, competing in the 1984 and 1987 tournaments as well, and played for Russia in 1996's World Cup of Hockey. He is one of but a handful of players who can lay claim to winning gold at the World Junior Championship, gold at the World Championship, being part of a Canada/World Cup championship, recipient of an Olympic gold medal and part of a Stanley Cup championship.

In 2008, Igor Larionov was inducted into the Hockey Hall of Fame, joined by Glenn Anderson in the Players Category, Ray Scapinello in the Referees/Linesmen Category and the late Ed Chynoweth in the Builders Category. For Igor, reflecting on the journey that led to the Hall of Fame was a humbling experience. "I was seven years old, by my apartment building in the small town of Voskresensk, my hometown. I had my hockey bag and I was walking to practice. And now, forty years later, I was travelling to be inducted into the Hockey Hall of Fame." Larionov was the fifth Russian player to be inducted into the Hockey Hall of Fame, following Sweeney Schriner (born in Russia but raised in Canada), Slava Fetisov, Vladislav Tretiak and Valeri Kharlamov (Anatoli Tarasov was inducted into the Hall of Fame as a Builder). Larionov suggested that other Russians should also be considered in the years ahead. "My dream would be those players I was with: Makarov, Krutov and Kasatonov. They belong."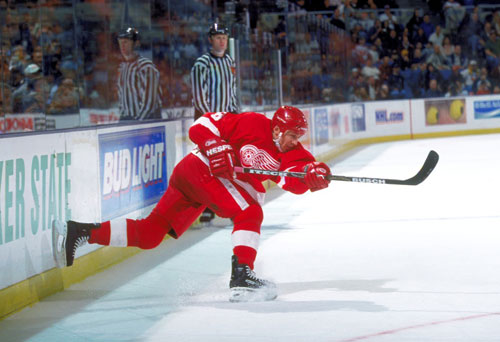 Igor Larionov of the Detroit Red Wings lets a shot go during game action against the Ottawa Senators. (Ottawa Senators/HHOF)





Igor Larionov's remarkable career straddled both the Soviet Hockey League and National Hockey League, excelling at both. His terrific skills, specifically in playmaking and stickhandling, were ably matched for his sheer on-ice intelligence, which allowed him to be extremely creative during the heat of battle. Yet, Larionov's contributions to hockey are far greater than what he did at the arena, either in North America or in Russia. His role in breaking down the barrier that prevented talented Soviet players from plying their craft in the National Hockey League has led to the extraordinary influx of outstanding Russian players that populate the North American game today. "I fought for human rights for hockey players in Russia to get some respect for the system and to get the opportunity so they are not locked in a country. I'm proud that I fought for the rights." He added, "I'm so happy for the young Russian players, who have the freedom to come and choose their own path. I'm just grateful I was fortunate enough to be able to make it, because how many fantastic hockey players just didn't make it from my home country?"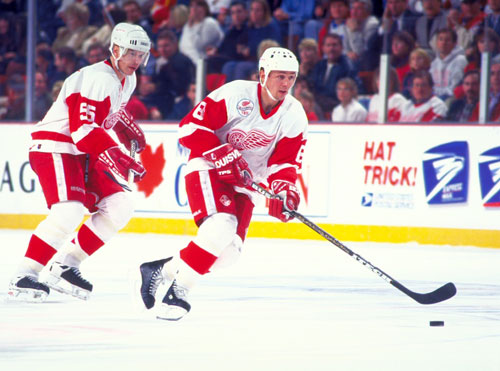 Two future Hall of Famers as members of the Detroit Red Wings, Igor Larionov #8 and Larry Murphy #55. (David E. Klutho/HHOF)
Kevin Shea is the Editor of Publications and Online Features at the Hockey Hall of Fame.