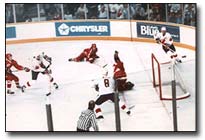 (February 4, 2002) -- When Bill Barilko flew through the air at Maple Leafs Gardens to win the 1951 Cup for Toronto, he was 24 years old. When Wayne Gretzky registered 215 points in 1985-86 he was 25 years old. Bobby Orr flew into space the afternoon of May 10, 1970 at the age of 22. But, when Mario Lemieux scored the second-most important goal in Canada's international history, he was just 21 years old. He scored that historic 1987 Canada Cup-winning goal almost fifteen years to the day after Paul Henderson scored the most important goal of all time (for the record, Henderson was 29 at the time), and it decided one of the greatest short series of all time.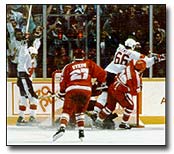 The Soviets won the first game 6-5 in overtime. Canada won the second game by the same score in double overtime, Gretzky scoring five points. And the third game also ended 6-5 Canada, the clinching goal coming with just 1:26 left in the third period. The deciding rush came with spectacular speed, starting with a face-off in Canada's end.
For once, for whatever reason, Slava Fetisov was not on the ice for the Soviets. When Dale Hawerchuk won the draw, Canada moved quickly out of its own end and a three-on-two developed down the left wing, Gretzky carrying the puck across the Soviet line. "I knew there was a good chance he was going to get the puck to me," Lemieux said recently in an exclusive interview with hhof.com, "so I just wanted to get in the best position possible to score a goal."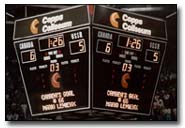 Needless to say, the greatest passer of all time made no mistake. "As usual," Mario agreed, "Wayne made a great pass."
And just as usual, Lemieux put the shot through the eye of a needle past goalie Sergei Mylnikov. In the ensuing years, Lemieux won numerous Art Ross and Hart Trophies, two Stanley Cups, and a Bill Masterton for his courageous battle with Hodgkin's disease. He became the first player to turn owner, and later return to the game with all his glorious skills intact. But he will forever be remembered for that goal at the 1987 Canada Cup. That is, unless he does something at Salt Lake...!
- Andrew Podnieks is the author of numerous books on hockey including the current The Essential Blue & White Book. He is also a regular contributor to Leafs.com and managing editor of A Day In The Life of the Leafs to be published in the fall of 2002.