Currently featured within the Honda NHL Zone is the limited-time 9&99: Howe • Gretzky Exhibition. An exhibit unlike any other, paying homage to the most prolific scorers of our generations. Witness the greatest compilation of milestone artifacts and rare personal memorabilia, all hand-picked by Hockey Hall of Fame curators from the Howe and Gretzky family collections.

Revel in the legacy and indelible bond of 'Mr. Hockey' and 'The Great One'. On now. Don't miss it. On the exterior of the exhibition are Legends of Hockey showcases highlighting the careers of the game's greats.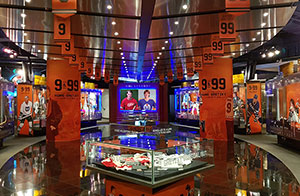 New 9&99: Howe • Gretzky Exhibition pays homage to the legacy and indelible bond of 'Mr. Hockey' and 'The Great One'.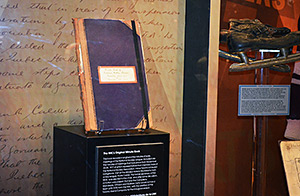 Original minute book of the National Hockey League.
'NHL Today' showcases the stars and highlights of today's NHL. This exhibit devotes a showcase to each of the NHL's four divisions as well as the league's annual Hockey Hall of Fame game. On display are a range of artifacts which help capture the story-lines, moments and players that are shaping the current game. Whether an event occurred a century past or a week ago, it provides a continuing thread in hockey history's rich fabric.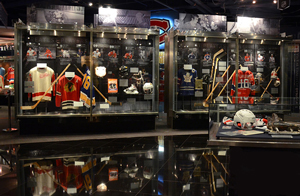 The Honda NHL Zone features some of the most important artifacts in NHL history.
'NHL Retro' presents franchise histories, including the defunct franchises like the Kansas City Scouts, Brooklyn Americans and Hamilton Tigers to name but a few. Also on display are some of the most memorable fashion statements made throughout the years.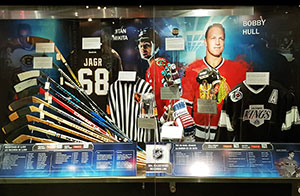 The NHL Milestones showcase highlights the some of the top moments from the game's greatest players.
'NHL Milestones' highlights many of the records existing proudly within the NHL record book:
Sittler's ten-point game,
Mosienko's three goals in 21 seconds
Gretzky's all-time goal-scoring and point totals plus so many more.
Located adjacent to and unveiled in conjunction with the Honda NHL Zone is an exhibit entitled Via Rail Stanley Cup Dynasties. This display includes reverent displays to the rosters of nine franchises which lorded over the NHL for extended periods of time, giving these clubs the singular honour of being considered "Dynasties".
PHATS / SPHEM Wall of Honour
The Honda NHL Zone also includes a tribute to members of the Professional Hockey Athletic Trainers Society (PHATS) and the Society of Professional Hockey Equipment Managers (SPHEM) who have been honoured by their peers for their outstanding contribution and service.
During the annual Hall of Fame Dinner, one member of PHATS/SPHEM is honoured by his peers for his contribution and service by being inducted into the PHATS/SPHEM Wall of Honour, located outside the Montreal Canadiens' dressing room.
Click here for more information and a list of honourees.
Exhibits Map