Mobile Exhibit Rentals:

New Legends Exhibit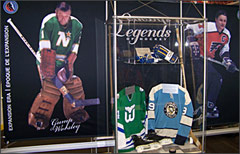 The Hockey Hall of Fame's largest outreach exhibit system, this 2,000 square foot display has a sleek new look that compliments the great players and moments that it showcases.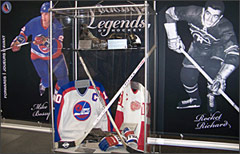 Unveiled during the 2008 IIHF World Championship that was held in Quebec City, Quebec, the system was designed and funded in conjunction with the International Ice Hockey Federation, celebrating not only the history of the game, but the IIHF's 100th anniversary in 2008.
The exhibit system features 20 uniquely themed showcases and almost 200 unique Hall of Fame artifacts that promise to thrill audiences young and old with colourful large-scale graphic components that compliment each showcase.
Along with the core NHL themed display, the full set-up is also available with the full International or Canadian Hockey League themes or can be tailored to suit the specific needs of your event.
For a full list of themes currently available, please see below:
Themes Currently Available Include:
Original Six - Boston Bruins
Original Six - Chicago Black Hawks
Original Six - Detroit Red Wings
Original Six - Montreal Canadiens
Original Six - New York Rangers
Original Six - Toronto Maple Leafs
Hometown - Local Area Hockey
Origins of the Game
Wayne Gretzky - The Legend
NHL Today
NHL All-Star Game
Stanley Cup History
OHL Memorial Cups
QMJHL Memorial Cups
WHL Memorial Cups
OHL HHOF Legends
Legends - Expansion Era (post 1968)
Legends - Goalies
Legends - Defencemen
Legends - Forwards
Legends - Builders
Legends - Officials
Memorial Cup
OHL History
QMJHL History
WHL History
Military Hockey
Aboriginal Hockey
QMJHL HHOF Legends
WHL HHOF Legends
WHL at World Junior Championship
CHL Year-in-Review
Team Canada - Pro Classics
Team Canada - Olympics
Team Canada - World Championship
Team Canada - World Juniors
Team Canada - Women's
Team USA - Men's
Team USA - Women's
Team Czech
Republic/Czechoslovakia
Team Finland
Team Russia/USSR
Team Sweden
CHL All-Star/Prospect Games
CHL in the CIS
Quebec Nordiques
COMING SOON:
OHL at World Junior Championship
QMJHL at World Junior Championship
NHL Outdoor Games
*Ask about other themes you may be interested in — extra charge may apply*
Additional Silver Medal Options Available Include:
HHOF Photo Collections - 25% discount
HHOF Video Archives - 25% discount
HHOF Hockey Art Collection - 25% discount

Original Legends Exhibit
(Available as a full NHL, AHL or CHL Junior Exhibit)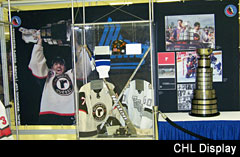 A Hall of Fame classic, "The Original" Hockey Hall of Fame mobile Legend's Exhibit features 12 unique showcases that are complimented by a graphic component and has been designed for set-up versatility. In use since 1998, the exhibit system has travel from coast-to-coast across North America and has been a fan favourite wherever it goes.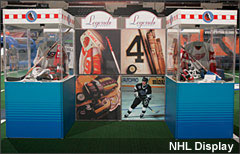 Not only can Legends tailor the exhibits to suit your needs, whether you are looking for today's NHL or a history of hockey in your area, but we also feature two full non-NHL set-ups with graphics. The American Hockey League Legends exhibit was unveiled for the first time at the 1999 AHL All-Star Classic held in Philadelphia, Pennsylvania and offers a unique and colourful display covering the league's 70+ year history. Four months later, the Canadian Hockey League Legends exhibit was first unveiled at the 1999 Memorial Cup in Ottawa, Ontario and it covers the entire history of major junior hockey and the Memorial Cup.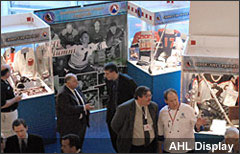 Themes available include all of the above, as well as many, many more. Please ask about any subject that you may be interested in.
Additional Silver Medal Options Available Include:
HHOF Photo Collections - 10% discount
HHOF Video Archives - 10% discount
HHOF Hockey Art Collection - 10% discount

Individual Showcases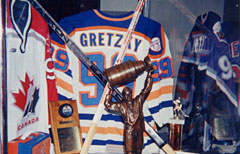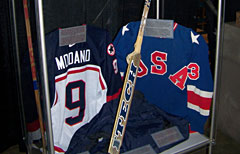 Individual Showcases, featuring approximately 7-9 artifacts each are available for rental in sets of two. A great way to bring a piece of the Hall to a smaller scale event/function, the artifacts can be tailored to suit whatever theme/needs you may have (depending on artifact availability) and can fit in almost any size space.

Photo Collections
Turofsky Photo Collection
The Turofsky Collection is the world's single largest collection of hockey photographs. Noted brothers, Nat and Lou Turofsky, began taking photos in 1907 and quickly established themselves as the premier photographers in the sporting world. Their spectacular and diverse hockey photographs truly captured the essence of the game, from the stars to the journeymen, from the glamourous arenas to the dank training facilities, all of which chronicle the Original Six era.
Imperial Oil Ltd purchased the collection on December 2, 1981 for $15,000. Imperial then donated the collection of 900 glass-plate negatives and 21,000 cellulose negatives to the Hockey Hall of Fame where they are now archivally preserved. Twenty-seven of these images have been selected for the exhibit.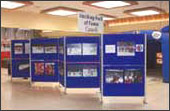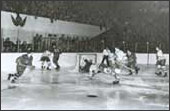 1972 Team Canada Photo Collection
The Summit Series of 1972 was considered by many to be the best hockey ever played in any era. The most talented hockey players from the Soviet Union played an eight-game series against the very best NHL players from Canada. It was believed throughout North America that Canada would dominate the series, especially since the Soviet's young goaltender, Vladislav Tretiak, was scouted as possessing minor-league talent. This was far from the case.
Leading up to the final game the series was tied at three wins apiece and one tie. Played in front of a hostile Soviet crowd, Canada went on to win the final game in the dying minutes of the third period on a heroic goal by Paul Henderson. The Series was so intense it evolved into more than a goodwill match between two countries; it became a war of political differences. The impact those eight games had on international hockey was immense and the creation of an international rivalry was born.
The 'Series of the Century' collection provides a synopsis of some of the tenuous and highly emotional moments highlighting the eight games.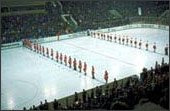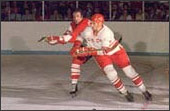 Women's Hockey Photo Collection
(description to come)
Junior Hockey Photo Collection
(description to come)

Art of Hockey Collection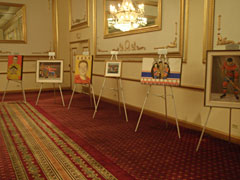 The Hockey Hall of Fame's collection of artwork is a great addition to any exhibit rental or stands alone as an exciting visual history of the world's most exciting sport. Featuring more than 25 original paintings and lithographs, the collection depicts some of hockey's most notable historic moments and figures through the eyes of a variety of artists of different styles.
The Thompson collection is comprised of 12 canvases that illustrate hockey's great feats such as the Montreal Canadiens' dynasty of the 1950s; Joe Malone's record seven goals-scored in one game for the Quebec Bulldogs; General Manager Lester Patrick's lacing up for his New York Rangers during the 1928 Stanley Cup Final; the longest game in NHL history; the grand opening of the Hockey Hall of Fame at Toronto's Exhibition grounds, and many more. Together they are a show stopping set for any gallery or display space.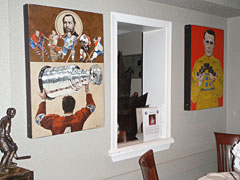 Most notably, the collection boasts an original work from American pop artist Andy Warhol, whose 1977-78 Athlete Series showcased prominent sports figures including New York Ranger and Hockey Hall of Fame Honoured Member Rod Gilbert. The series was commissioned with the belief that the two most popular leisure activities, art and sport, should be brought together.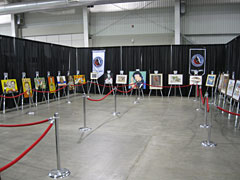 Our largest painting is a 6' x 4.5' action portrait of Montreal Canadiens' legendary captain Jean Beliveau, realized by artist Dennis Maggs to commemorate Beliveau's induction into the Hockey Hall of Fame in 1972. The stature of this commanding showpiece is only fitting for its subject.
Many more portraits, career retrospectives, and hockey scenes are brought to life by artists such as George Guzzi, Scott Chaplin, Michel Lapensée, and Daniel Parry. In addition to paintings, original cartoon artwork, sculptures, goalie masks, and painted hockey sticks are available where multimedia can be accommodated.
COST (per piece of art):
(does not include staffing)
Andy Warhol Original $500/day
Jean Beliveau Original $500/day
1-5 pieces $400 each/day
6-10 pieces $350 each/day
11-15 pieces $300 each/day
16-20 pieces $250 each/day
*specific requirements MUST be met and certain conditions apply (link to page)
*discounts available for more than 3 day rentals
*additional costs for expenses
*certain conditions apply

LegendsTheatre
A small area with large screen, or individual monitors throughout your venue are all that are needed to bring the Hockey Hall of Fame's Video Archives to life. With 1000's of hours of footage covering all facets and aspects of the game, we are able to add a unique element to any event, function or fanfest. Whether it's the award-winning Legends of Hockey series, NHL player features, International Hockey match-ups or speciality videos, a theatre is sure to entertain all.
Please ask about any specific themes you may be interested in viewing.
EXISTING VIDEO COST: $250
Bring the experience of the Hockey Hall of Fame to your part of the world.
The Outreach Program's mobile exhibits and interactive games are available for short and long term rentals. Take advantage of these unique and exciting attractions to make your next event legendary.
For more info contact:
Stanley Cup / Trophies / Exhibits
Phil Pritchard
416-933-8208
Packages / Exhibits / Trophies
Izak Westgate
416-933-8242
Interactive Games
Peter Delisle
800-659-7468