Alongside both sides of the NHLPA Game Time are stands that provide seating for 60 fans. It is here that visitors can test their hockey knowledge through Slapshot Trivia. Eight kiosks cycle through a database of over 10,000 questions.
Slapshot Trivia covers the entire world of hockey, from hardcore trivia to lighthearted pop culture, and features four unique game play formats: Shooting Drill, Starting Line Up, One On One, and Photo Op.
Run the gamut of hockey:
Fine tune your skills in Shooting Drill - gamble on the size of the net and slide it under the correct answer;
Choose the right squad to set the game's tempo in Starting Line Up - select the top five and rank them accordingly;
No room for error when the game is on the line in One On One - select the correct answer in as little time as possible;
Take the final spotlight in Photo Op - decipher the photos as they get progressively clearer over time.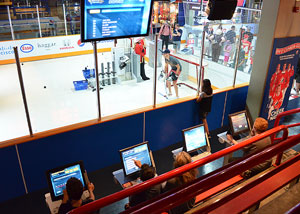 Fans test their knowledge in a hockey trivia challenge in the Slapshot Trivia zone. Click to enlarge.
Exhibits Map