PHATS/SPHEM Wall of Honour
Professional Hockey
Athletic Trainers Society /
Society of Professional Hockey
Equipment Managers
In 1969 professional hockey athletic trainers began meeting informally to exchange ideas on business matters, medical knowledge and common problems that take place in their unique work environment. By 1973, both the NHL and NHLPA had officially recognized the Professional Hockey Athletic Trainers Association. Over the next 20 years, the organization continued to expand its ranks to include both athletic trainers and equipment managers from the NHL, AHL, IHL, ECHL and CHL. In 1996, members voted to divide the organization into two equal societies which would continue to strive to meet common goals, as well as focus on the specific needs of athletic trainers and equipment managers. Currently, the Professional Hockey Athletic Trainers Society (SPHEM) and the Society of Professional Hockey Equipment Managers (PHATS) boast over 240 members, who represent more than 100 professional teams in eight leagues from across North America.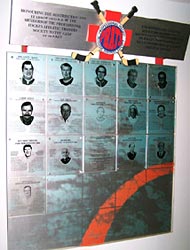 One of the many objectives of the PHATS/SPHEM Annual Meetings is to increase awareness of members' dedication and professionalism. During the annual Hall of Fame Dinner, one member of PHATS/SPHEM is honoured by his peers for his contribution and service by being inducted into the PHATS/SPHEM Wall of Honour, located outside the Montreal Canadiens' dressing room.
Click here to view the recent PHATS/SPHEM honourees.
PHATS - Induction Requirements
Ten years service in the NHL as Head Trainer or Equipment Manager
Twenty years total service in professional hockey
Member of P.H.A.T.S.
Service to the community
Personal accomplishments
Past or present Board Member of P.H.A.T.S.
Contributions to hockey
The collective goal of making the game of hockey as safe as possible for the players has enabled PHATS and SPHEM to develop a variety of worthwhile programs that have made a positive impact both inside and outside the sport of hockey. Some of these noteworthy contributions include:
Lending their knowledge and expertise to NHL initiatives and committees
Educating their counterparts in hockey's minor leagues through annual educational symposiums
Granting scholarships to equipment management and athletic training students
Supporting and advancing their national affiliate associations
Members of PHATS, who have compiled NHL injury statistics with team physicians for several years, have helped raise the issue of minimizing injuries. This momentum has played a role in the formation in 2000 of a new NHL committee aimed at reducing and preventing injuries to the players.
Throughout the 2000-01 season the NHL Injury Analysis Committee developed recommendations on possible ways to reduce injuries either by altering the players' equipment, the game's style of play or the rules of the game.
In recognition of members of the Professional Hockey Athletic Trainers Society (PHATS) and the Society of Professional Hockey Equipment Managers (SPHEM) who have been honoured for their contribution and service. Selected solely by PHATS & SPHEM.
Athletic Trainers:
Wilson, Ross, Detroit Red Wings (1995)
Canney, Dan, Boston Bruins (1996)
Mackie, Norm, St. Louis Blues (1997)
Ashley, Larry, Vancouver Canucks (1999)
Thayer, Skip, Pittsburgh Penguins (2001)
Woodcock, Tom, San Jose Sharks (2003)
Waske, Ron, New York Islanders (2006)
Demers, Peter, Los Angeles Kings (2007)
Murray, Jim, Calgary Flames (2009)
Lefebvre, Gaetan, Montreal Canadiens (2011)
Surprenant, Dave, Minnesota North Stars/Dallas Stars (2013)
Equipment Managers:
Olesevich, Dan, Detroit Red Wings (1996)
Palchak, Eddy, Montreal Canadiens (1998)
Varga, Lou, Chicago Blackhawks (2000)
Lacasse, Rene, Quebec Nordiques (2002)
Fleger, Ken, Vancouver Canucks (2004)
Pickard, Jim, New York Islanders, Tampa Bay Lightning (2006)
Smith, Dave, Dallas Stars (2008)
Brennan, Mark, Detroit Red Wings, Florida Panthers (2010)
Stafford, Barrie, Edmonton Oilers (2012)
Exhibits Map