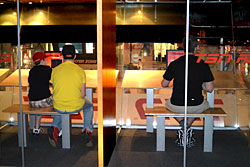 Fans try their hand at calling some of the
most memorable moments in hockey history.
TSN/RDS Broadcast Zone
The Hockey Hall of Fame has recently unveiled a series of new interactive experiences within the TSN/RDS Broadcast Zone, an area dedicated to providing an immersive, entertaining and educational first-hand look at television hockey broadcasting. Using state-of-the-art technology, guests can explore and experience the TV broadcast world from a variety of angles, both on and off the camera.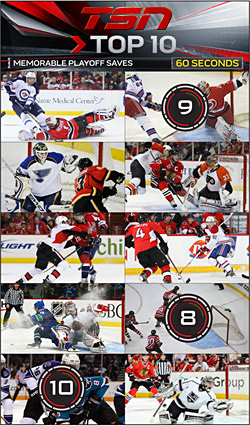 TSN Top 10 Challenge Zone
TSN/RDS Broadcast Pods
In the updated TSN/RDS Broadcast Pods, overlooking the NHLPA Game Time model rink attraction, TSN guides James Duthie and Alain Crete help guests choose from a menu of classic hockey games and then put them behind the microphone to try their hand at calling the action. A wide selection of clips are available, from memorable NHL moments to classic international women's hockey. The Cisco GameCAM Video System records every broadcast so guests can immediately download and share their experience with family and friends via social media.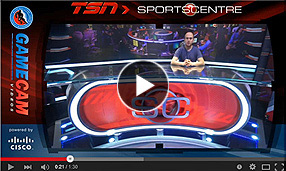 A Hockey Hall of Fame guest tests his anchor skills in the TSN SportsCentre Studio.
TSN Top 10 Challenge
At the new TSN Top 10 Challenge, guests are invited to watch and rank an assortment of 10 highlight segments, based on various pre-produced TSN Top 10 themed features, which run simultaneously on a tower grid of high-definition video wall displays. The users' results are then matched to the actual ratings determined by the hockey gurus at TSN.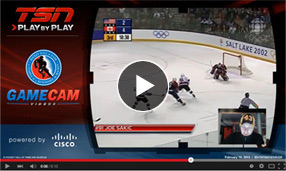 A Hockey Hall of Fame guest tries his hand at calling one of the game's most iconic moments in the TSN/RDS Broadcast Zone.
TSN SportsCentre Studio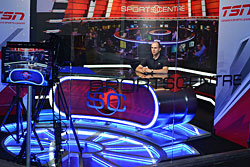 TSN SportsCentre Experience
This scaled replica of TSN's SportsCentre studio set offers guests an opportunity to "audition" and test their sports anchor skills in front of a camera/teleprompter. As is the case with the TSN/RDS Broadcast Pods, all performances are recorded via the Cisco GameCAM Video System which allows participants to download and later share their clip online.
Also don't miss the hockey broadcast visual timeline located beneath the mezzanine level.

The Hockey Broadcast History Timeline.
Exhibits Map