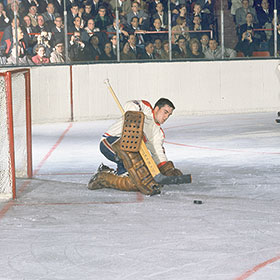 Through 16 NHL seasons, spread between the Montreal Canadiens, Los Angeles Kings, Detroit Red Wings and Boston Bruins, Rogatien "Rogie" Vachon played 795 regular season games, winning 355, losing 291 and tying 127. He collected 51 shutouts, and earned a career goals-against average of 2.99. In post-season play, Vachon won 23 (including two shutouts) and lost 23 in 48 games. His playoff goals-against average was 2.77.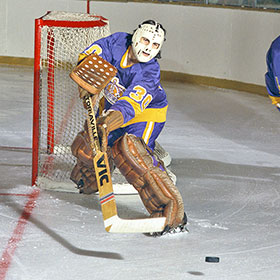 Born September 8, 1945, Rogatien Vachon burst into the NHL during the 1966-67 season. When Montreal Canadiens' netminder Gump Worsley was injured, and back-up Charlie Hodge faltered, Vachon was summoned and played 19 of the final regular season games. But his prominence truly came to the fore during the playoffs that spring, when the youngster was in goal as the Canadiens swept the New York Rangers in the semi-final. The Canadiens then met the Toronto Maple Leafs for the Stanley Cup.
In trying to diminish Vachon's confidence, Toronto coach Punch Imlach famously uttered, "Tell that Junior 'B' goaltender that he won't be facing New York Ranger peashooters when he plays against the Leafs." But when Vachon backstopped the Canadiens to a definitive 6-2 win to open the series, Imlach responded, "Vachon's still Junior 'B,' but he's the best Junior 'B' in the country." The Canadiens ended up losing to the Maple Leafs, but Rogie Vachon had earned a permanent spot on the Montreal roster.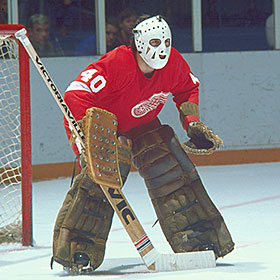 Vachon started for the Canadiens in 1967-68, and paired with the veteran Gump Worsley, won the Vezina Trophy for the lowest team goals-against average, finishing with a combined 2.26; the lowest goals-against average since 1958-59. Montreal went on to win the Stanley Cup that spring, and repeated in 1969. The Canadiens won the Stanley Cup again in 1970-71, but this time another rookie goaltender was in goal: Ken Dryden.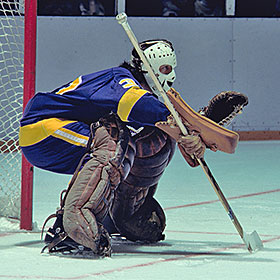 When it became clear that Montreal intended to use Dryden as their principal netminder in 1971-72, Vachon was traded to the Los Angeles Kings after appearing in just one game. It was with the Kings that Vachon had the greatest moments of his NHL career. He was named the team MVP four consecutive seasons starting with 1972-73. In 1975, he was runner-up for the Vezina Trophy and was named to the NHL's Second All-Star Team, an honour repeated in 1977. Among the franchise records set by Vachon are most career games played by a goaltender (389), most career wins (171; since surpassed), most career shutouts (32; since surpassed); lowest single-season goals-against average (2.24; since surpassed), and most shutouts in a season (8; since surpassed). On February 14, 1985, the Los Angeles Kings retired Rogie Vachon's number 30. It was the first number retired by the Kings.
The Red Wings signed Vachon as a free agent prior to the 1977-78, and he tended goal in Detroit for three seasons. He was traded to Boston in August 1980, and played two seasons with the Bruins before retiring.
In 1976, Rogie Vachon was chosen to represent Canada in the Canada Cup tournament. Vachon earned the starting role over Gerry Cheevers and Chico Resch and played every game, winning six and losing but one. Canada won the 1976 Canada Cup, and Vachon was named to the tournament All-Star Team with his 1.39 goals-against average and two shutouts.
Through his 16-season NHL career, Rogatien Vachon compiled terrific statistics. In 795 regular season games, he won 355, lost 291 and tied 127, also collecting 51 shutouts. In post-season play, he added another 23 wins, two by shutout, and 23 losses in 48 games.