Born in Yorkton, Saskatchewan on October 9, 1928, Clare Drake was a fine hockey player in his youth, but made his mark in the hockey community as an extremely effective coach.
As a sixteen-year-old, Clare Drake starred playing juvenile hockey in his hometown, and by 1947-48, joined the Regina Pats of the Saskatchewan Junior Hockey League. Following that season, Drake left to attend the University of British Columbia. While earning his degree, Clare played three seasons of hockey with UBC, even serving as captain in his graduating year. He also played football for his alma mater.
Upon graduation in 1951, Clare returned to Yorkton and taught high school, but continued to play senior hockey. Simultaneously, he coached the school's hockey team, and led the squad to the league championship in 1952.
In 1953, Clare attended the University of Alberta, and played one season with the Alberta Golden Bears. He was the team's co-scoring leader and contributed significantly as the team went on to become Western Champions.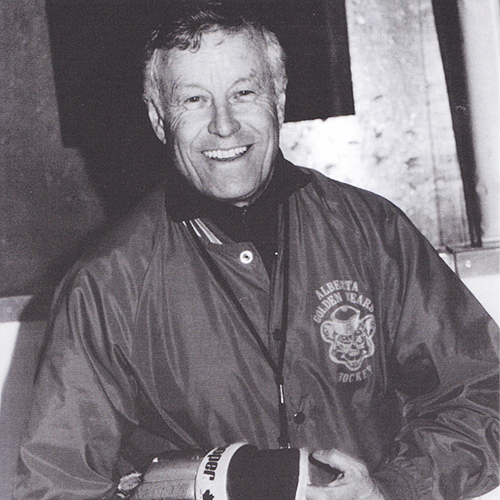 After graduating from both the University of Washington and Oregon, Drake moved to Dusseldorf, West Germany and was player/coach for a local team. He travelled through Europe, contributing to the growth and improvement of the game.
Clare returned to Canada, teaching and coaching at Strathcona Composite High School in 1955. That same year, he was named interim coach of the University of Alberta Golden Bears. Three years later, Drake was appointed head coach of the University of Alberta's hockey team, and in 1967-68, became the only coach in history to win a national championship in both hockey and football in the same season. Drake continued to coach university hockey for 28 seasons, winning 17 Western Canadian championships and six national championships before retiring at the conclusion of the 1988-89 season. During his extraordinary university coaching career, he was a four-time winner of the coach of the year in Western Canada College Sports, and twice was named the CIAU's coach of the year. By 1983, he became the first CIAU coach to win 500 games, and on October 8, 1985, he earned a spot in the record books by earning a win that made him the most successful coach in college hockey history. His career winning percentage was a fine .695.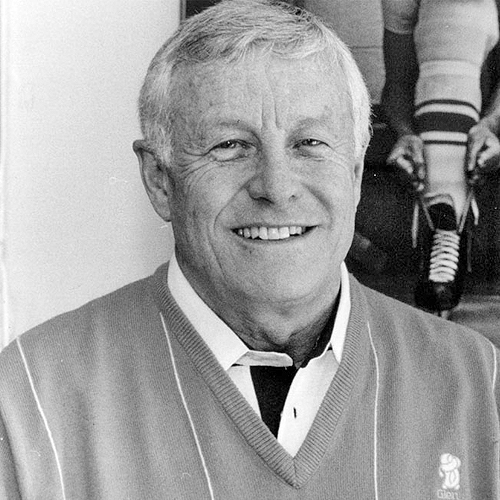 But coaching university hockey was never enough for Clare. In 1972, Clare coached the silver medal-winning Canadian team in the World Student Games. By 1975-76, his acumen as a coach had gained enough of a reputation that he was hired as head coach of the Edmonton Oilers of the World Hockey Association. He served as co-coach of the 1980 Canadian Olympic Hockey Team in Lake Placid, New York and in 1981, led the Canadian team to a gold medal finish at the 1981 World Student Games held in Spain. Drake was behind the bench in 1984 when Team Canada earned its first-ever gold medal at the Spengler Cup. In 1987, he coached the Canadian team to a bronze medal at the World Student games in Czechoslovakia. The NHL's Winnipeg Jets added Drake as an assistant coach in 1989-90. The University of Alberta Pandas women's hockey team asked Clare to be a technical advisor in 1997–98 and 1998–99. He also assisted the Dallas Stars during the 2001 Stanley Cup Playoffs.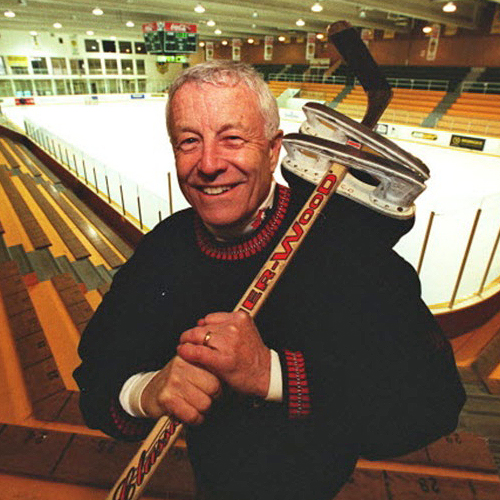 Accolades were heaped on Clare Drake to honour his extraordinary coaching successes. He was added to the Alberta Sports Wall of Fame in 1987 and was inducted into Canada's Sports Hall of Fame in 1989. The University of Alberta Varsity Arena was re-named in his honour in 1990. Clare received the Geoff Gowan Award in 2006 as best coach in university sports. In 2008, he received the Order of Excellence from the Province of Alberta.