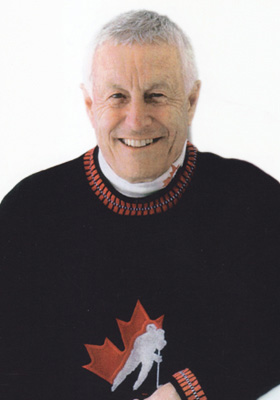 Clare Drake
October 9, 1928 – May 13, 2018
The Hockey Hall of Fame and its members are deeply saddened to learn of the passing of Honoured Member Clare Drake.

The most successful coach in CIAU/CIS history, Drake led the University of Alberta Golden Bears for 28 seasons, guiding the institution to six CIAU national championships and 17 Canada West titles. He ended his legendary career with 697 wins and a winning percentage of .695. Drake was inducted into the Hockey Hall of Fame in the Builder Category in 2017.

On the international stage Drake served as head coach for Team Canada at the Spengler Cup in 1984, winning the nation's first-ever gold medal at the tournament.

The Hockey Hall of Fame would like to extend sincere condolences to Mr. Drake's family.
Click here to view his Honoured Member page.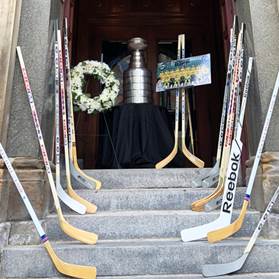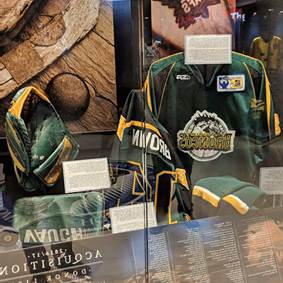 Hockey Hall of Fame Stands with the Community of Humboldt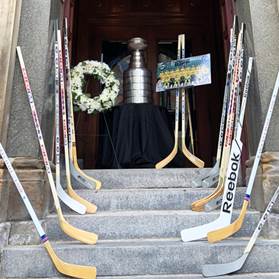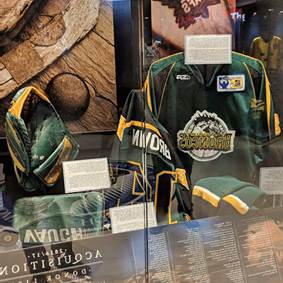 The Hockey Hall of Fame is deeply saddened by the incredible loss surrounding the Humboldt Broncos. Our thoughts are with the families and communities affected by this terrible tragedy.
In tribute, artifacts from past Broncos seasons are now on display at the Hockey Hall of Fame.
We stand with you #HumboldtStrong #PutYourStickOut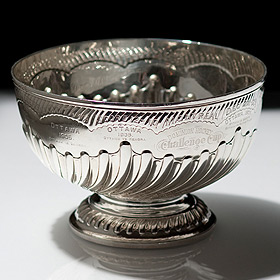 The Dominion Hockey Challenge Cup, Lord Stanley's gift to the game, first awarded in 1893.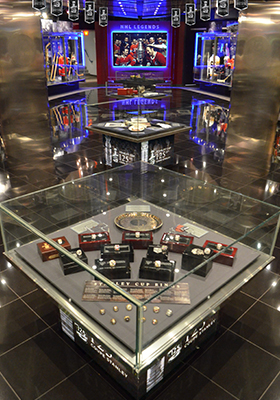 The limited-time Stanley Cup 125th Anniversary Tribute was unveiled on March 9, 2018.
Stanley Cup 125th Anniversary Tribute Now Open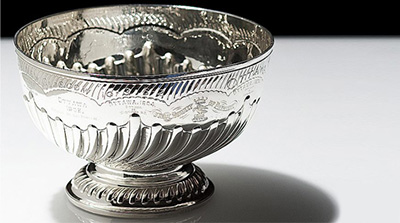 On March 18, 1892, Lord Stanley of Preston delivered a statement in which he committed to donate a trophy that would be competed for by Canadian hockey teams. Little did he realize just how powerful and magical his gift to hockey would prove to be, and the impact that the iconic silver trophy would have on so many lives for years to come.
This year represents the anniversary of two historic dates. One hundred and twenty-five years ago, on May 15, 1893, Montreal AAA club claimed the first Stanley Cup championship by virtue of finishing atop of the AHA standings. Twenty-five years later, the Toronto Arenas became the first NHL Stanley Cup champion when they defeated the Vancouver Millionaires 2-1 in the deciding fifth game of the final on March 30, 1918.
The Hockey Hall of Fame, home to both the original and current versions of the Stanley Cup, expanded its tribute to these chalices during this anniversary year with the unveiling of featured showcases on Friday, March 9th, 2018. The Stanley Cup 125th Anniversary Tribute artifacts include: Stanley Cup pucks dating back to 1901; rings, watches, and miniature Cups awarded to Stanley Cup champions; turn-of-the-19th century commemoratives and periodicals on Lord Stanley; pre-NHL Stanley Cup ribbons and memorabilia; as well as the tools used to craft and engrave the trophy.
Complement your visit with the Hockey Hall of Fame's Personalized Tour App including access the special Stanley 125 custom tour. Download now.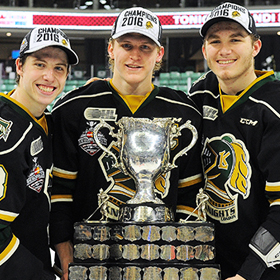 Mitch Marner, Christian Dvorak and Matthew Tkachuk led the London Knights to the Memorial Cup title in 2016.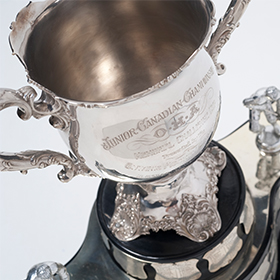 For 100 years the Memorial Cup has honoured the sacrifices made by Canadians during wartime.
Memorial Cup Centennial Exhibition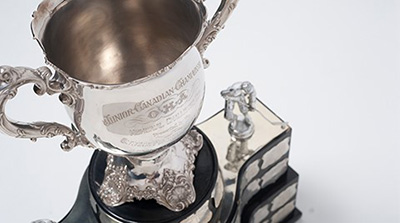 Opening on March 9, 2018, the limited-time Memorial Cup Centennial Exhibition pays homage to the top moments and players in Memorial Cup history. Highlighted in this showcase is the Original Memorial Cup (circa 1918), and featured artifacts include championship rings from Doug Gilmour (1981) and Cam Neely (1983), as well as Eric Lindros's jersey from the 1991 Oshawa Generals. Also featured in the showcase are artifacts from Hall of Famers Pat Quinn, Scott Niedermayer and Pat LaFontaine, as well as current NHL stars Taylor Hall and Corey Perry. The Centennial Exhibition also shines a light on some of the most memorable Memorial Cup championship teams, including the Kamloops Blazers dynasty of the early 1990s and the 2005 London Knights team which is widely regarded as one of the greatest junior hockey teams in history.
Since its inception 100 years ago, the Memorial Cup has served as the pinnacle of Canadian Major Junior hockey, as well as a reminder of the sacrifices made by Canadians during wartime. The trophy was the brainchild of the Canadian Amateur Hockey Association president, Captain James T. Sutherland, who dedicated it to all hockey players that gave their lives during the First World War. Following the war, the Ontario Hockey Association donated the Memorial Cup to be competed for annually to determine Canada's top junior hockey team.
Re-dedicated in 2010 to also honour all fallen Canadian military personnel since World War I, the Memorial Cup is exactly that, a trophy that memorializes those who died in military service for Canada.
Click here for a complete list of Memorial Cup champions.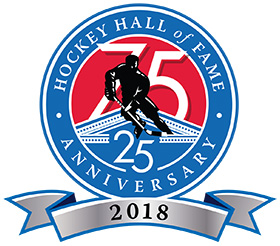 75/25 Anniversary
Celebration Details
2018 is a momentous year for the Hockey Hall of Fame as it will commemorate 75 years since its inception on September 10, 1943 and 25 years since opening its destination attraction at BCE Place (now Brookfield Place) on June 18, 1993.
In view of these significant milestone anniversaries, the Hockey Hall of Fame launched the "75/25" inaugural endowment fundraising campaign with the goal of contributing $1,000,000 in net proceeds from the Hockey Hall of Fame 75/25 Anniversary Legends Gala, the marquee event and focal point of the campaign to be held at historic Maple Leaf Gardens in Toronto on Monday, June 25, 2018.
Our History - More on the birth and growth of the Hockey Hall of Fame.
Stay tuned as details on upcoming special events and celebrations are announced.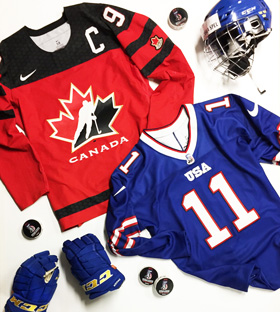 World Junior Championship
Artifacts Unveiled!
Now on display are artifacts from the 2018 World Junior Championship. Featured Artifacts include:
Gloves and Helmet worn by Team Sweden defenceman Rasmus Dahlin.
Goal Pucks used to score all four goals in the gold medal game.
Jersey worn by Team Canada captain Dillon Dube.
Buffalo Bills themed Team USA jersey worn by Casey Mittelstadt - the game was played at New Era Field, home of the NFL's Buffalo Bills.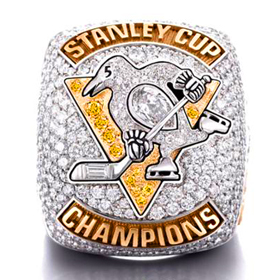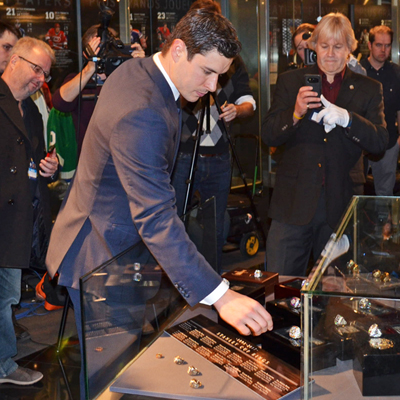 Penguins captain Sidney Crosby adds the 2017 Ring to the Stanley Cup Championship ring display at the Hockey Hall of Fame.
Pittsburgh Penguins
Donate 2017 Stanley Cup
Championship Ring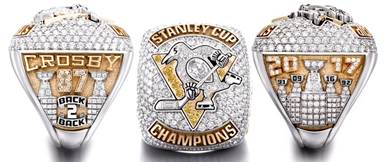 On November 29, 2017, members of the Pittsburgh Penguins organization, including Sidney Crosby, Evgeni Malkin, Kris Letang and General Manager Jim Rutherford presented Hockey Hall of Fame Curator Phil Pritchard with a 2017 Pittsburgh Penguins Stanley Cup Championship ring. The ring will be featured in the Stanley Cup Championship Ring Display at the Hockey Hall of Fame.
The distinctive ring is hand crafted and features over 200 diamonds, including 10 yellow diamonds that make up the background of the Penguins logo atop the ring. Each player has his name and number and the phrase "Back 2 Back" with two Stanley Cups on the left side of the ring.
The defining part of the ring, however, is the number 5, which replaces the eye of the Penguins logo as a nod to their five Stanley Cup championships.
The ring was added to the Stanley Cup Championship Ring Display which also features past Stanley Cup champions, including the first-ever Stanley Cup ring (1893) Billy Barlow (MAAA); Bill Hay's 1961 ring (CHI); Daryl "Doc" Seaman's 1989 ring (CGY) and Bob Johnson's 1991 ring (PIT). The display also contains rings from the 2007 (ANA), 2008 (DET), 2009 (PIT), 2010 (CHI), 2011 (BOS), 2012 (LA), 2013 (CHI), 2014 (LA), 2015 (CHI) and 2016 (PIT) Stanley Cup Champions, which were all donated by the owners of the teams.
Click here to view press release in its entirety.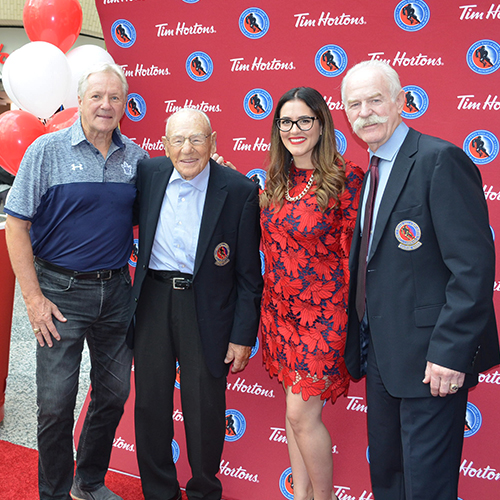 Honoured Members Darryl Sittler, Johnny Bower and Lanny McDonald were on hand to help owner, Angela Hage, open Tim Hortons ‐ Hockey Hall of Fame Special Edition.
Tim Hortons ‐
Hockey Hall of Fame
Special Edition Now Open!
On September 20, 2017, Tim Hortons, a Hockey Hall of Fame Premier Sponsor since 2013, opened its highly-anticipated "Tim Hortons - Hockey Hall of Fame Special Edition" restaurant.
The co-branded restaurant is situated within Sam Pollock Square in Brookfield Place, adjacent to the Hall's Spirit of Hockey retail store entrance, and features themed exhibits on each of Canada's seven NHL franchises showcasing artifacts from the Hall's collection including those highlighting the career of Honoured Member Tim Horton.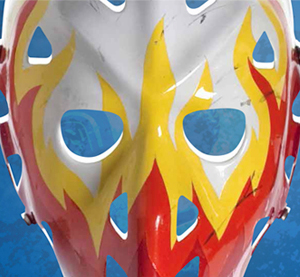 Masks worn by Yves Belanger of the Atlanta Flames (top), Curtis Joseph of the Toronto Maple Leafs (bottom left) and Clint Benedict of the Montreal Maroons (bottom right) show the evolution of the goalie mask.
New Mask Exhibit
Now Open
Hockey Hall of Fame has unveiled a brand-new exhibit entitled The Mask presented by Imports Dragon. An unparalleled tribute to puckstoppers past and present, the exhibit features an extensive gallery of 90 goalie masks showcasing their evolution and stylist transformation over the years.
Notable masks on display include those worn by Honoured Members Jacques Plante, Johnny Bower, Ken Dryden, Ed Belfour and Grant Fuhr. The gallery also features a selection of memorable masks from pop culture including one worn by Keanu Reeves in the classic hockey movie Youngblood.
Included in the exhibit is an animated presentation that tells the story of over 150 goalies and the historic and artistic significance behind their distinctive masks ranging from the inclusion of celebrity icons, athletes from alternate sports and defunct teams.
Click here to view exhibit highlights.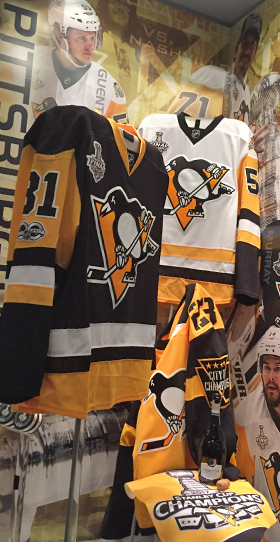 Pittsburgh Penguins
Stanley Cup Champions
Artifact Display Unveiled!
Now on display is an extensive exhibit dedicated to the 2017 Stanley Cup Champion Pittsburgh Penguins.
Featured Artifacts include:
Phil Kessel's Jersey worn during the 2017 Stanley Cup Final.
Game-used Pucks from each game of the 2017 Stanley Cup Final.
Jake Guentzel' Jersey worn during the 2017 Stanley Cup Final.
Champagne Bottle from the Stanley Cup victory celebration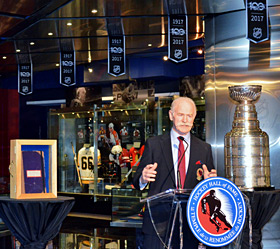 Hockey Hall of Fame Chairman of the Board, Lanny McDonald officially opens the limited-time NHL Centennial Exhibit on March 10, 2017.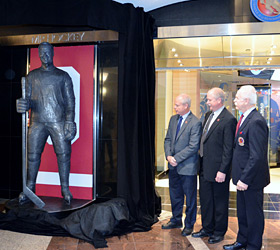 Gordie Howe's sons, Mark and Marty along with Lanny McDonald, help unveil the nearly nine foot tall statue of "Mr. Hockey" that now stands guard the entrance to the Hockey Hall of Fame.
Hockey Hall of Fame
Unveils the Limited-Time
NHL Centennial Exhibit
On March 10, 2017, the Hockey Hall of Fame officially unveiled the limited-time
NHL Centennial Exhibit
, a comprehensive tribute to the players and teams of the National Hockey League from 1917 - 2017. Central to the exhibit is an area dedicated to the league's 100 greatest players, as selected by an NHL-appointed panel, who are represented through historic artifacts and captivating video vignettes. Featured items in the exhibit include Jacques Plante's first goalie mask worn regularly in the NHL (1959), Gordie Howe's Hart Trophy plaque (1960), Bobby Orr's infamous knee brace (1970), Mario Lemieux's Stanley Cup jersey (1992), Wayne Gretzky's 802 goal puck and equipment (1994), Sidney Crosby's Stanley Cup gloves (2009), and Jonathan Toews' Stanley Cup jersey (2010). The exhibit also includes the original 1917 minute book of the National Hockey League, which represents the first-hand account that defined the framework and birth of the National Hockey League. Also unveiled was a nearly nine foot tallstatue of the incomparable "Mr. Hockey", Gordie Howe (HHOF 1972). The statue fittingly stands guard at the entrance to the Hockey Hall of Fame where the best of hockey is celebrated.
Click here
to view press release in its entirety.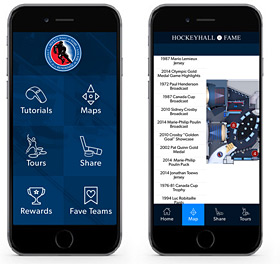 Hockey Hall of Fame Personalized Tour App
The Hockey Hall of Fame is pleased to announce the launch of its Personalized Tour App for iOS and Android devices. The Tour App offers over 50 customized tours based on individual NHL teams, countries and positions, as well as a tribute to women's hockey, stories that inspire and surprise, plus scavenger hunts and games. Throughout the app, users have the ability to instantly capture and share their experience via social media and save their favourite moments during their Hall visit.
Visit Apple Store & Google Play to download.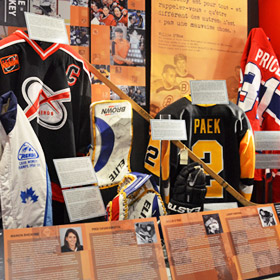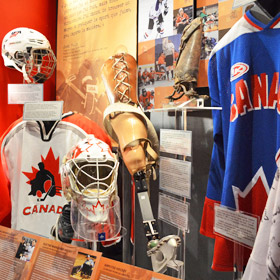 The Changing Face of
Hockey - Diversity in Our
Game Exhibit Unveiled
The Hockey Hall of Fame is proud to announce its newest exhibit,
The Changing Face of Hockey - Diversity in Our Game
. The permanent exhibit brings to light the challenges faced by marginalized people across North America in their struggle for social equality and acceptance in the great game of hockey. The new display pays homage to the pioneers who confronted discrimination from the hockey world through their perseverance, talent, and courage. They have enriched the cultural landscape of hockey and established a tangible forum in which to fight prejudices still faced by many, both in hockey and in life. Highlighted within the new display are four significant issues that helped shape today's game - Ethnicity in Hockey, Marginalized People in Top Level Pro Hockey, Women in Hockey and Disabled Hockey.
The Changing Face of Hockey - Diversity in Our Game
promises to be an educational highlight to any school visit to the Hockey Hall of Fame. Stay tuned for a complete curriculum based Education Package designed to complement this exhibit. The new display will make its permanent home within the
Hometown Hockey Zone
.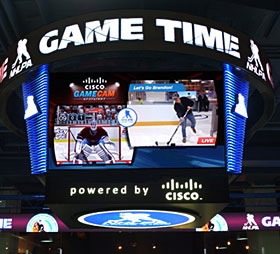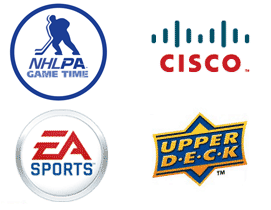 NHLPA Game Time
Experience
NHLPA Game Time
, the Hockey Hall of Fame's revitalized model rink attraction that incorporates elements from EA SPORTS enabling guests to go one-on-one against life-size, animated versions of today's greatest goalies and shooters in the
Shut Out
and
Shoot Out
simulation games.
Cisco GameCAM Video System records every simulation game play so that guests can immediately download and share their Game Time experience with the world via social media.
This state-of-the-art, immersive, interactive attraction is sure to be a highlight for Hockey Hall of Fame guests of all ages.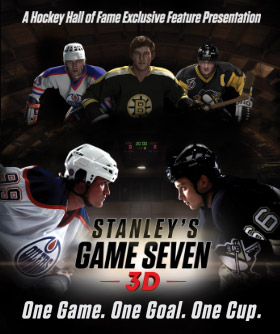 Hockey Hall of Fame
Exclusive 3D Film Presentation
Now Playing
Stanley's Game Seven (3D)
is now playing. The Hockey Hall of Fame's latest film offering is a landmark production in the world of hockey and pushes the boundaries of 3D filmmaking in the sports genre to groundbreaking levels, while offering guests an unparalleled "Experiential Hockey Attraction."
The story opens with a group of young men gathering at the local small-town rink for their once-a-week hockey game, the highlight of their lives, like it is for so many hockey enthusiasts.
Stanley's Game Seven combines a stunning mix of original live action, computer generated 3D animation, and classic archival footage of some of the most renowned playoff moments in Stanley Cup history. The 22 minute film plays at the top and half past the hour in the Hockey Hall of Fame's new TSN Theatre and is included in the price of admission.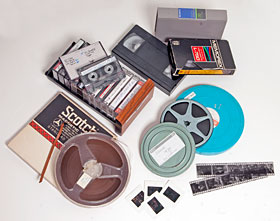 HHOF Artifact Donation
The Hockey Hall of Fame is always looking for donations of everything hockey (any league and all levels worldwide). We have placed an emphasis on Audio and Visual material. Specifically this includes audio, film and video (including outdoor home films and video), broadcasts and interviews, photographic slides, negatives and digital photos.
All donated material will be preserved within the state of art climate controlled Photographic and Moving Pictures archive at the D.K. (Doc) Seaman Hockey Resource Centre. The Hockey Hall of Fame is committed to preserving and sharing our fabulous collection with hockey fans from all over the world. And thanks to the generous support by way of donations from families, teams, leagues and federations we have been able to achieve this goal for decades.
Click here for more information.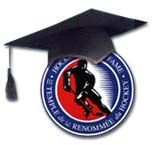 Award-Winning Hockey Hall of Fame Course Goes On-Line
From hockey's earliest origins to the Great One and beyond, Canada's great game is now being taught exclusively on-line. A credit course at Seneca College in Toronto, titled
The Hockey Hall of Fame Presents
, provides the opportunity for students across North America to participate.
The Hockey Hall of Fame and Seneca College's Faculty of Continuing Education have combined to create this landmark and award-winning on-line course, which takes a serious look at the history and evolution of the game. Each week's topics examine the cultural, social and economic impact hockey has had on Canada.
"We're excited about sharing our passion for hockey," says Hockey Hall of Fame Curator Phil Pritchard, who is one of the course's instructors along with the Editor of Publications at the Hockey Hall of Fame, Kevin Shea. "We are delighted to partner with Seneca in order to take the Hockey Hall of Fame's reputation and resources into the classroom."
For further information about on-line course, click on the site:
http://fcet.senecac.on.ca/fcet/fcet_hockey/can699# or contact Seneca College Media Relations at 416-491-5050 ext. 2656.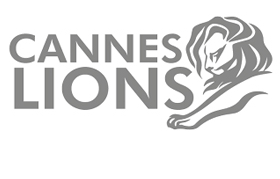 Hockey Hall of Fame Spot Wins International Award
View the Hockey Hall of Fame's "Hockey At Its Best" campaign including the international award-winning Cannes Lions 2012 'Bobby Bishop' spot.
Details
.