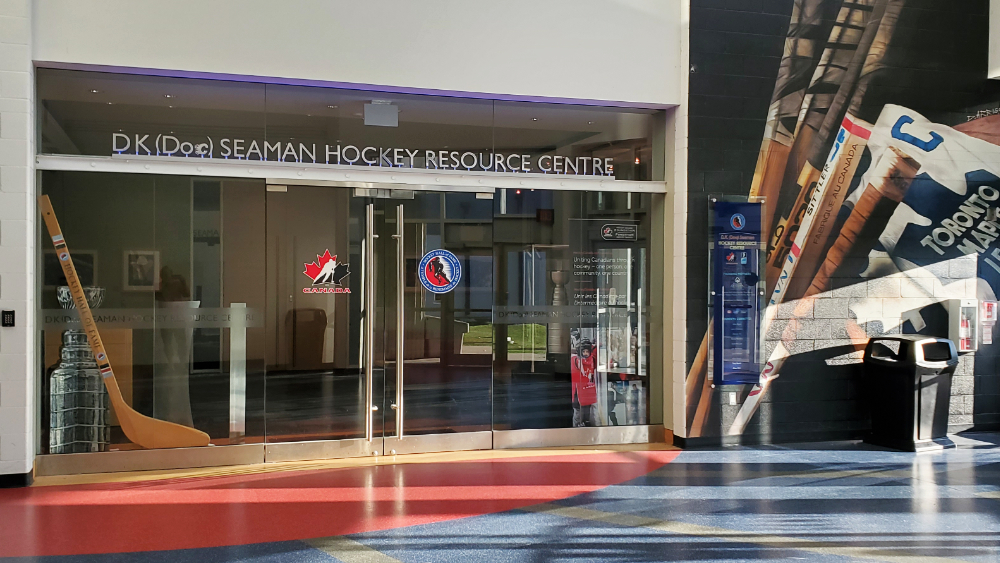 Opened on September 8, 2009, the Hockey Hall of Fame's D.K. (Doc) Seaman Hockey Resource Centre is located within a four-pad arena complex, a multi-purposed facility that also serves as the practice facility for the Toronto Maple Leafs and Toronto Marlies, as well as offices of Hockey Canada and the NHL Alumni.
Funded, in part, by contributions from the Seaman Hotchkiss Hockey Foundation, the International Ice Hockey Federation (IIHF), the Department of Canadian Heritage and ten individuals who formed the 'Hockey Resource Centre and Archives (HRCA) Founders Committee', the facility was named in honour of the late Daryl K. (Doc) Seaman (HHOF 2010), one of the founding owners of the Calgary Flames and a long-time benefactor of grassroots hockey development in Canada.
At almost 10 times the storage capacity of its previous location, the 18,000 square foot, state-of-the-art facility encompasses a space the size of an airplane hangar to access, catalogue, preserve and store items not on display in the downtown Toronto museum, and contributes to making the Hall's Exhibit Rentals program more robust.
In addition to serving thousands of correspondents, media, administrators, teams, players, fans, students, teachers, museums and libraries each year, the D.K. (Doc) Seaman Hockey Resource Centre is the fabric of the Hockey Hall of Fame, playing an integral role in the planning and development of the Hall's exhibition, outreach, fundraising, licensing and charitable activities.
Today, the Hockey Hall of Fame prides itself on having hockey's premier resource centre and archive facility. As the game of hockey continues to grow, so too does the Hall's collection and its responsibility to preserve the game's rich history for generations to come.