Errors & Corrections
1937-38:
Chicago Blackhawks - Pete Palangio's name appears twice, once spelled correctly and once incorrectly as PALAGIO.

1941-42:
Toronto Maple Leafs - Turk Broda is represented twice, once as TURK BRODA and once as WALTER BRODA.

1946-47:
Toronto Maple Leafs - Gaye Stewart is misspelled as GAVE STEWART.

1950-51:
Toronto Maple Leafs - Ted Kennedy's name is spelled incorrectly as TED KENNEDYY.

1951-52:
Detroit Red Wings - Coach Tommy Ivan's name is misspelled as TOMMY NIVAN
-- Alex Delvecchio's name is misspelled as ALEX BELVECCHIO.

1956-60:
Montreal Canadiens - Jacques Plante won the Stanley Cup five consecutive years, his name is spelled differently each and every time.

1962-63:
Toronto Maple Leafs - Misspelled as TORONTO MAPLE LEAES.

1971-72:
Boston Bruins - Misspelled as BQSTQN BRUINS.

1976-77:
Montreal Canadiens - Bob Gainey's name is misspelled as GAINY.

1980-81:
New York Islanders - Misspelled as NEW YORK ILANDERS.

1983-84:
Edmonton Oilers - Owner Peter Pocklington included the name of his father Basil Pocklington, who was unaffiliated with the team. The NHL learned of the move and ordered the name removed. The name is now covered by 16 X's.

1995-96:
Colorado Avalanche - ADAM DEADMARSH was misspelled as ADAM DEADMARCH. It was later corrected - a Stanley Cup first.

2001-02:
Detroit Red Wings - MANNY LAGASE was corrected to MANNY LEGACE.
2005-06:
Carolina Hurricanes - ERIC STAAAL was corrected to ERIC STAAL.
2007-08:
Detroit Red Wings - TOMAS HOMSTROM was corrected to TOMAS HOLMSTROM.
2009-10:
Chicago Blackhawks - KRIS VERTSEEG was corrected to KRIS VERSTEEG and in 2021, Brad Aldrich's name was removed by being covered with Xs after illegal actions.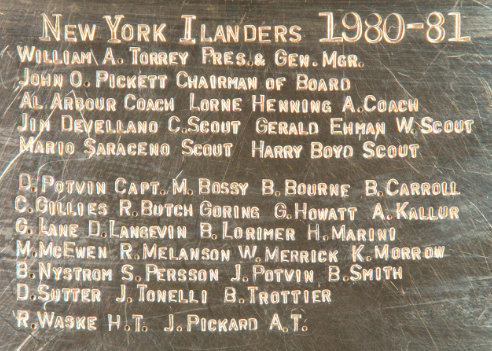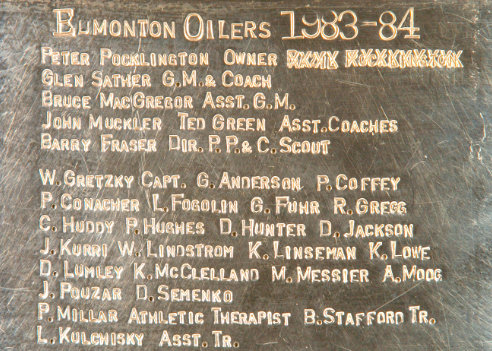 Of note: The Boston Bruins elected to engrave hard-rock defenseman Ted Green on their team's 1971-72 championship roster, even though Green had suffered a serious injury in the exhibition season and did not play that year.
Carving A Piece OF History
There have only been four official engravers of the Stanley Cup. The first engravers comprised of two generations of the Petersen family, with assistance from Fred Light Sr. They were followed by Doug Boffey, owner of Boffey Silversmiths of Montreal. The current engraver is Louise St. Jacques, who took over Boffey's engraving business and left the legacy of the shop's name in place.
During engraving the Cup is disassembled from the top down. The band being engraved is clamped onto a homemade circular jig that creates a steel background for stamping. Special hammers with different head-weights are used to strike against a letter-punch to sink each letter into the silver.