While names like Gretzky, Messier, Anderson and Fuhr were monopolizing the hockey headlines during the Edmonton Oilers' dynasty of the 1980s, teammate would point to one man as the foundation of the team – Kevin Lowe.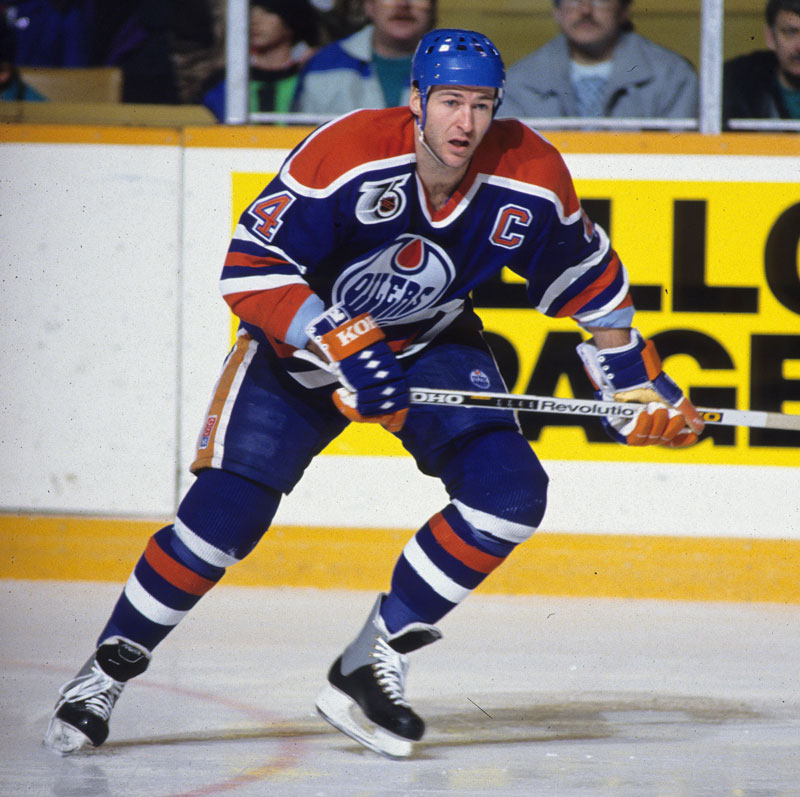 Kevin Lowe was born April 15, 1959 in Lachute, Quebec. He established himself as an elite defenceman in junior, playing with the Quebec Remparts of the Quebec Major Junior Hockey League (QMJHL). He joined the team in 1976-77, playing three seasons, and was named to the league's Second All-Star Team in 1977-78 and 1978-79. In the latter season, he served as the first English-speaking captain of a QMJHL team.
At the 1979 NHL Entry Draft, Lowe was drafted in the first round, 21st overall by the Edmonton Oilers. The franchise had just been added to the NHL after seven seasons in the World Hockey Association, and Lowe was Edmonton's first ever NHL draft pick. In his first NHL game on October 10, 1979 against the Chicago Black Hawks – in fact, the Edmonton Oilers' first NHL game – Lowe scored a goal, which was the franchise's first regular season goal. The goal, scored on a powerplay, was assisted by Wayne Gretzky and Brett Callighen.
The Oilers really found momentum in the 1981-82 season, and it is easy to overlook Kevin Lowe's substantial contributions as they were overshadowed by those of Hall of Fame teammates Wayne Gretzky, Mark Messier, Glenn Anderson and Paul Coffey. The team enjoyed a dynasty decade with NHL records broken along the way.
Lowe was awarded the 'A' in 1986-87, joining Mark Messier as an alternate captain with Wayne Gretzky as the team captain. That season, the Oilers won the Presidents' Trophy by finishing first overall during the regular season, and followed with a Stanley Cup championship, the third in four years for Edmonton.
Kevin played 13 seasons with the Oilers, helping lead the franchise to five Stanley Cup championships (1984, 1985, 1987, 1988 and 1990), two Presidents' Trophy first overall finishes (1985-86 and 1986-87), eight division championships (1982-83, 1983-84, 1984-85, 1986-87, 1987-88, 1989-90, 1990-91 and 1991-92) as well as six conference championships (1982-83, 1983-84, 1984-85, 1986-87, 1987-88 and 1989-90).
Lowe started the 1991-92 season in Edmonton, but he was traded to the Rangers himself on December 11, 1992 in an exchange that sent Roman Oksiuta and a draft choice to Edmonton. In 1994, Lowe was a member of another Presidents' Trophy in New York and went on to win his sixth Stanley Cup championship.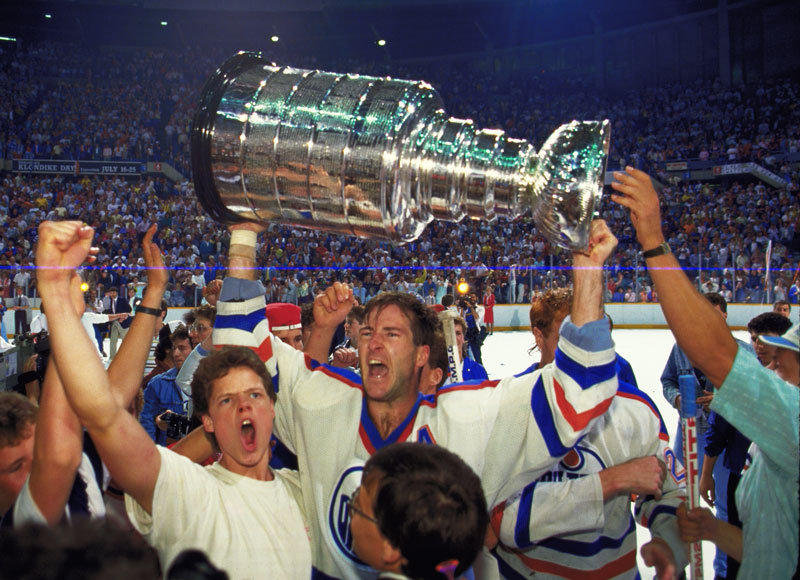 By 1996-97, Lowe returned to the Oilers as a free agent and concluded his playing career as an Oiler. In 1997-98, his final NHL season, Kevin started the season but retired after five games because of an inner-ear virus that hampered his game, only to return for two games in April 1998.
Kevin Lowe played in 1,254 regular season games, scoring 84 goals and 347 assists for 431 points and added 1,498 minutes in penalties. He added another 214 games in the playoffs, with 10 goals, 48 assists and 58 points, also earning 192 penalty minutes. He has played more regular season and playoff games in an Oilers uniform than anyone in franchise history.
He also played in the NHL All-Star Game as an Oiler in 1984, 1985, 1986, 1988, 1989, 1990 and in 1993 as a Ranger. In 1990, Kevin was the recipient of the King Clancy Memorial Trophy for exemplifying leadership qualities on and off the ice and making a significant humanitarian contribution to his community.
Following his outstanding playing career, Lowe stayed heavily invested in hockey. In 1998-99, he took on a role as an assistant coach for Edmonton and then became the head coach in 1999-2000. Following that season, his role was elevated to general manager. In 2008-09, he was promoted to President of Hockey Operations with the Edmonton Oilers. In April 2015, Kevin was named Vice-Chairman of Oilers Entertainment Group.
Lowe has also played a role on hockey's international stage, joining the management team at the 2002 Winter Olympics and served as the manager at the 2004 World Cup of Hockey.
The best defensive defenceman during the regular season with the QMJHL is presented with the Trophée Kevin Lowe, a trophy awarded since 2005. A new honour was given to Kevin Lowe in 2020 – induction into the Hockey Hall of Fame in the Player category.