An outstanding goaltender who has represented her country at the highest level, Kim St-Pierre is one of the elite players to collect the trifecta in women's hockey: Olympic gold (three times), IIHF Women's World Championships (five times) and the Clarkson Cup (twice).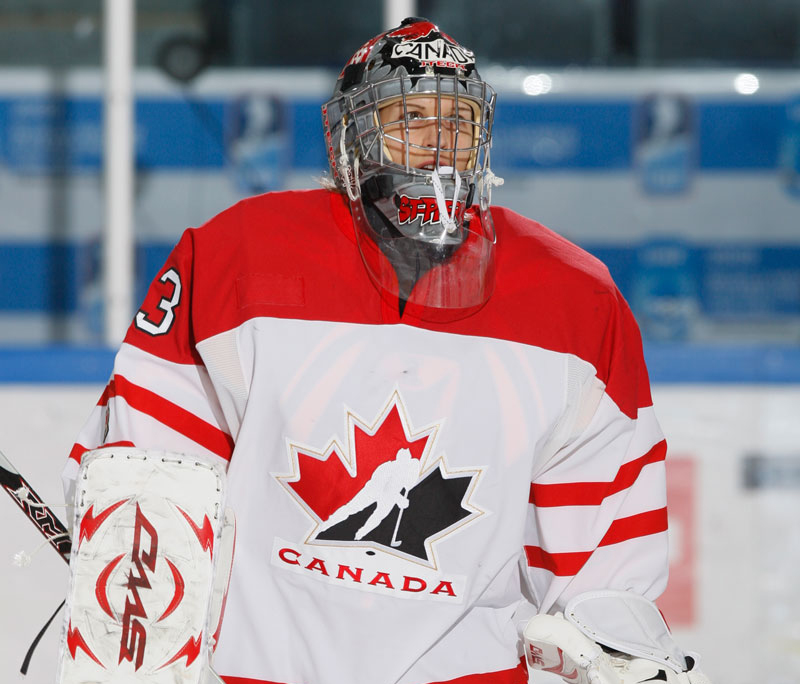 Born in Chateauguay, Quebec on December 14, 1978, Kim St-Pierre began playing hockey when she was eight years old, competing on boys' teams until she was 18. The hockey world really began to take notice of Kim's talent during her time playing goal for the McGill University Martlets hockey team between 1998 and 2004 while completing a degree in kinesiology. She was the top rookie for the team in 1998-99 and was selected to the CIAU All-Star Team in 1999-2000, 2000-01, 2001-02 and, with the league renamed CIS (Canadian Interuniversity Sports), was an All-Star again in 2003-04. Kim won the league's Championship MVP award in 1999-2000 and was the recipient of the Brodrick Trophy as the Most Valuable Player in the CIS in 2002-03. In 103 career games with the Martlets, St-Pierre had a record of 50 wins, 40 losses and 12 ties, along with 27 shutouts. In 2002-03, Kim was also awarded the Gladys Bean Award as McGill's top female athlete and the BLG Thompson Trophy as CIS athlete of the year. That same season, she was also the first woman in CIS history to win a men's regular season game when McGill defeated Ryerson University 5-2 on November 15, 2003.
During this time, St-Pierre joined Canada's National Women's Hockey Team. She was selected to join Team Canada for the 2002 Winter Olympic Games in Salt Lake City, Utah. With Kim tending goal in the deciding game, Canada edged Team USA 3-2 to claim the Olympic gold medal. She was selected Top Goaltender in that Olympic tournament.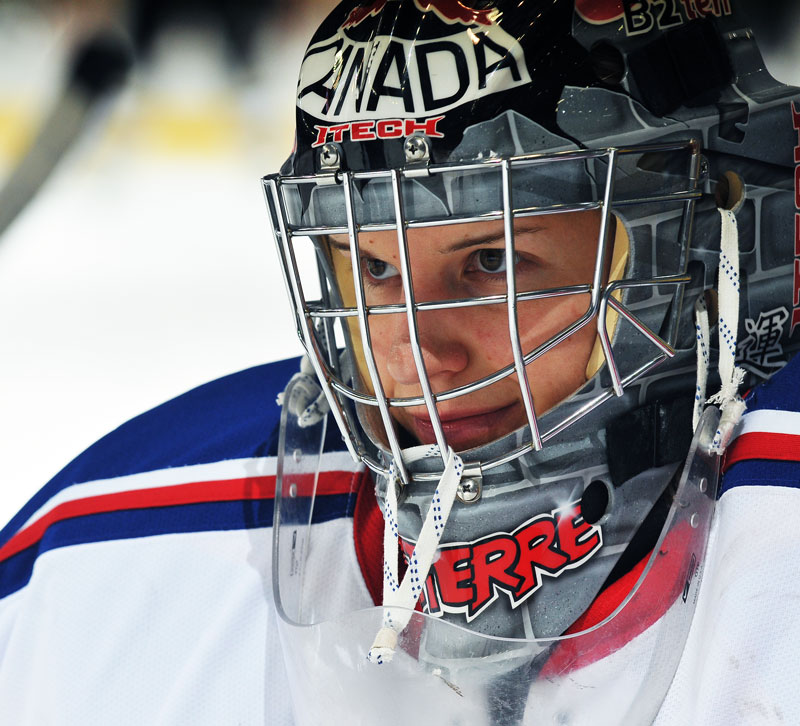 Four years later at the Winter Olympics in Turin, Italy, Kim was paired with Charline Labonté in goal. St-Pierre played in two games, backstopping Canada to a 16-0 toppling of Italy and an 8-1 victory over Sweden. Team Canada went on to win a second gold medal, defeating that same Swedish squad 4-1 in the Final. In 2012, St-Pierre joined her Canadian teammates with this 2006 Olympic hockey team to be inducted into the Canadian Olympic Hall of Fame. In 2010, Vancouver, B.C. hosted the Winter Olympics. St-Pierre shared the crease with Shannon Szabados, and earned a shutout in an 18-0 romp over Slovakia and then played two periods of a 13-1 win over Sweden on the way to winning her third Olympic gold medal with a 2-0 victory over the United States in the Final.
St-Pierre has appeared with Team Canada at nine IIHF World Women's Championships, earning gold medals in Espoo Finland in 1999, Mississauga, Ontario in 2000, Minneapolis, Minnesota in 2001, Halifax, Nova Scotia in 2004 and Winnipeg and Selkirk, Manitoba in 2007. She also contributed to four silver medals, in Linkoping, Sweden in 2005, in Harbin, China in 2008, in Hameenlinna, Finland in 2009 and in Zurich, Switzerland in 2011. She earned the Top Goaltender award at both the 2001 and 2004 tournaments.
Kim St-Pierre was a member of the Quebec Avalanche in 2004-05 and the Montreal Axion in 2006-07of the original National Women's Hockey League (NWHL). When the remains of the original NWHL turned into the Canadian Women's Hockey League (CWHL), St-Pierre became the netminder for the Montreal Stars and played from 2007-08 to 2012-13, winning the Clarkson Cup championship in 2009 and 2011. She was voted Top Goaltender in the league in 2007-08, 2008-09 and 2010-11 and was selected for the CWHL Eastern All-Star Team in 2007-08, and was a First Team All-Star in 2008-09 and 2010-11.
History was made when St-Pierre stepped into the crease to face the Montreal Canadiens during a practice on October 23, 2008, following Manon Rheaume as just the second woman to play in an NHL practice.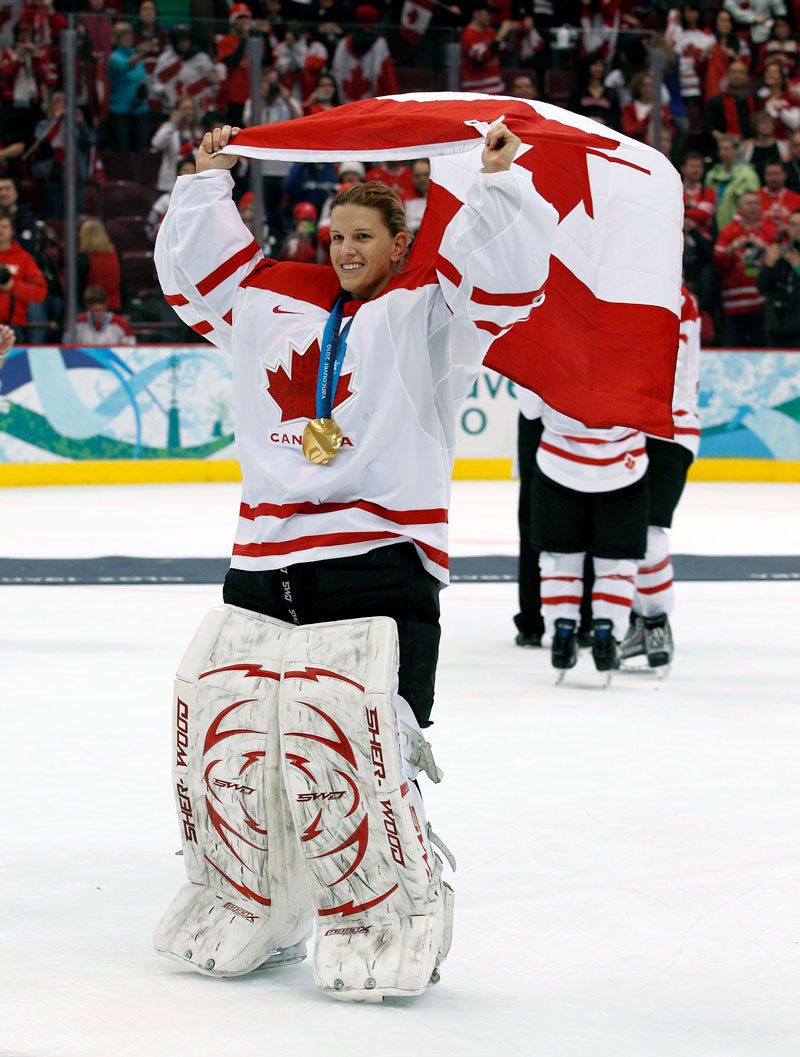 A remarkable athlete whose legacy has been cemented as one of the finest goaltenders women's hockey has produced, Kim St-Pierre took her place in the Hockey Hall of Fame's Player category in 2020.